Why sponsor a child ?
Sponsoring a child allows that child to live their childhood!
Sponsoring a child through Humanium allows for all the child's needs to be met.
Education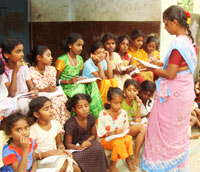 Attend school and benefit from a quality education.
Health
Access to healthcare and hygiene education.
Microfinance
Guarantee a stable income for mothers, ensuring families' wellbeing.
Human Rights

Ensuring the most fundamental human rights are respected.
Environment

Live and grow in a healthy and pleasant environment.
Citizenship

Become a real participant and determiner of their own life.
Peace

Live safe from violence.