Projects to help children in India
Promoting development in Tamil Nadu, India
With the use of
"Sustainable Organic Farming Technology "
Our project aims to promote sustainable development in agriculture and to reduce negative impacts on the agricultural fields in India.
Context and Issues
The consequences of environmental degradation are all well known. Human activities like deforestation, wrong farming techniques, livestock over-grazing and inappropriate land use lead to the destruction of plant and tree coverage, exposing the earth to natural forces such as heavy rains, direct sunshine and high velocity winds. These in turn have a detrimental environmental impact, such as soil erosion, floods, and scarce water.
These conditions make it hard for farmers to carry out their profession, especially with regards to the barriers created due to erosion and water shortage. The overall agricultural yields drop significantly, forcing farmers to leave rural areas in search of new homes in the cities. These farmers are often not equipped with the skills required for these city jobs, which can maintain and sometimes even worsen their poverty levels.
The project at a glance
Location: Thenambakkam, Koyambakkam und Kaliyanur (district Tamil Nadu) India
Partner : Hand in Hand Switzerland
Beneficiaries:  65 farmers
Costs: 19 000 Euros
Year: 2015-2017
Our Solution and its Suitability
The 'Promotion of Sustainable Organic Farming Technology' (SOFT) project aims to advise farmers on how to use their land properly. In addition, our projects manages a matching demand-and-supply network between the needs of the community and the production from the resources available, such as land, water, and vegetation. This twofold approach strives to counteract the environmental crises and reduce urban migration. It allows for a lower rate of land degradation and builds a community with a more conservative approach to agriculture. The equilibrium between need and availability of resources will lead to a better and increased resistance to drought and an increased agricultural production, therefore augmenting food supply, fodder, fuel and timber. Thus, the standard of living improves, leading to a reduction in poverty-induced migration and an increase in efficient and sustainable farming.  
The overarching aim of this project is to maintain a social, economical and ecological balance to contribute to sustainable development and the reduction of negative ex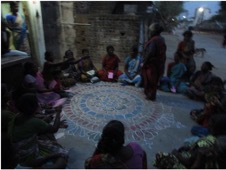 ternal impacts on the environment, especially agricultural lands. This is done within a threefold plan of action. Firstly, it consists of organizing the farmers and providing them with training.  The farmers participate in courses that teach them organic farming procedure and the use of their products, and help them with marketing strategies, that increase their profits. Furthermore, strategies are developed that enable the farmers to adapt better to climate change.
Secondly, these farmers are given technical assistance during the season and are supplied with organic inputs for the organic farming technology. Lastly, the products are processed and packed for sales for relevant added-value, and marketing teams sell the products through various approaches like direct marketing.
In practice, the goal is to cover a minimum of 50 acres of organic farms in 3 villages, and to train 100 farmers from these villages by organizing them into different working groups to participate in joint activities and to strengthen the relationship between the different communities.
Our long-term goal is to have a growth in the number of environment-friendly farmers in this network, so that the network spreads to other villages, ultimately leading to an increase in organic producers.
A measurable and sustainable impact
Our project has promoted organic farming on a large scale in various parts of the States of Tamil Nadu and Madhya Pradesh. The farmers in the villages near Kanchipuram, Tamil Nadu were impressed by the impact of these organic farming initiatives and the benefits accumulated by the participating farmers as a result of the adoption of organic farming techniques introduced by Hand in Hand India. The farmers therefore approached the Hand in Hand India office, requesting a new project to convert their lands to organic farming.
Our local partner Hand in Hand India places a project team with technically qualified human resources in charge of quality implementation. A team consists of a part-time project manager, horticulture or agriculture specialist, community organizer and livelihood specialist. This exclusive team is responsible for coordinating the planning, organizing, implementation and supervision the project activities that are being implemented. The project implementation team will construct action plans on a quarterly basis, whilst reporting and monitoring the progress.
After the successful completion of the project, the community based organizations (CBO) ensure that the relevant steps in the project are carried out and continue to provide benefit to the targeted farmers. The CBOs provide platforms for the farmers to expand their activities and allows for the incorporation of new farmers into this organic farming system.
Innovative development in their Current Modes of Farming
Before commencing the project, farmers carry out their work on an individual level. With the introduction of the project, groups are created which induces a communal responsibility to agriculture, an increase in collective farming, and a greater cooperation between farmers, particularly those neighbouring each other.
Furthermore, they get support from Seed to Seed in all aspects of their production and marketing, ensuring an effective back-and-forth link between all the actors involved at every stage of the process. Prior to their engagement with SOFT, farmers do not get support and depend on local shops for the usage and types of fertilizers and pesticides. In addition, district level organization with a structure for centralized marketing is constructed so that the profit flows back to the farmers. This is placed in contrast to the situation beforehand, where farmers found themselves barely broke even after selling their produce, without getting much profit or any dividend from the value addition and marketing.
Current achievements
In January 2016, 65 interested farmers (29 men and 36 women) in the Kaliyanoo and Koyambakkam villages were organized into 5 organic farmer groups, based on locality and convenience for farming activities.
The same month, certified seeds were distributed amongst farmers, according to the crop production plan, to commence the crop growth in nurseries due to early season.
The farmers followed conceptual and technical training programmes, consenting to produce the crops with organic methods
3 Organic Farmers's Group bank account were opened
In February, we started transplanting paddy from nursery to main fields whilst spraying them with organic bio-pesticides and growth promoters. The same was done for the gradual introduction for the organic production of black gram, green gram and gingelly.
Technical training and demonstration were carried out for the preparation of organic inputs, such as Jeevamirtham, Gana-Jeevamirtham, Panchakavya, Fish-amino acid, Azolla raising and five-leaf extracts. To facilitate the use of organic inputs, such as panchakavya, power sprayers were procured for the whole village to use.
They were provided with training on seed treatment using bio fertilisers and locally available cow dung and cow urine. They used these methods for raising nurseries and have adopted these organic practices in their main fields.
Between April and June, when the crops attained maturity and were ready to harvest, farmers were orientated towards harvesting and post harvesting methods to ensure the grown crops were harvested safely and waste avoided.
In total, 101,125kg of organic was harvested by all the 62 farmers on a total area of 58.30 acres. Harvested paddy was processed using sun drying methods. The farmers have kept approximately 49,600 kg of paddy for their own consumption and the remaining 51,525 kg of paddy has been procured from the farmers and marketed for profit.
With regards to the needs of the farmers and the success of the project, Humanium is working on extending organic farming to 20 more farmers in 2 neighbour villages.
DONATE HERE to this project !