Children of Vanuatu
Realizing Children's Rights in Vanuatu
Facing socio-economic, geographic, and political difficulties, Vanuatu is having trouble implementing the Convention on the Rights of the Child. Because of this, serious action remains to be taken, notably in matters of health, education, and abuse.
Main problems faced by children in Vanuatu:
Application of children's rights
Many traditional practices still guide the lives of residents of the islands of Vanuatu, sometimes conflicting with international human rights principles.
Some leaders of the archipelago tend to favour tradition at the expense of children's rights and object to making them respected.
Despite recent improvements, national legislation and traditional law clearly do not conform to the provisions of the Convention on the Rights of the Child. As a consequence, government programs and services aimed at children don't meet those requirements either.
Access to healthcare is one of the largest problems in the country concerning children. The fact that the territory is broken up into many small islands subject to natural catastrophes is an obstacle to the proper implementation of national programs.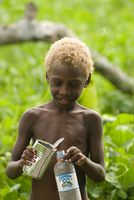 Moreover, lack of infrastructure, scarcity of health personnel, poor quality of sanitation networks, and restricted access to drinking water in many villages complicate the functioning of health services. Additionally, a general lack of knowledge on how to raise a child healthily is also very pronounced in rural areas.
Due to all of these factors, the infant mortality rate is relatively high (16%). For the World Health Organization, Vanuatu is one of the most difficult countries in the Pacific States in which to combat malaria.
Malaria causes close to 20% of deaths in children under 5 years old. Moreover, the survival and development of children is even more threatened byacute respiratory tract infections and diarrhoeal diseases.
Health policies favouring children are not sufficient, particularly when concerning accidents, suicide, violence, and alcohol and tobacco use. The spread of sexually transmitted diseases among youth and the elevated number of pregnancies among adolescents (estimated at 92%) are also very troubling.
The isolation and poverty of villages pose a large problem concerning access to education.
Despite commitments by Vanuatu to offer mandatory, quality, and free primary education to all children by 2015, the situation is not encouraging: poor literacy rates, high costs of education, poor teaching quality, general lack of educational manuals, and the still insufficient number of qualified teachers.
Moreover, the large number of languages (80 to 100 local languages, 2 official languages, and 1 national language, Bislama) doesn't make things easier. Education is, in fact, only offered in the two official languages, French and English, which are the native tongues of only 4% of the population.
The drop-out rate is relatively high, and in 2008, only 38% of children enrolled in secondary school were actually in attendance.
According to UNESCO, these youth find themselves in a very difficult situation: without professional training, they cannot have jobs and have not learned the necessary practices for modern life, but because the educational system drew them away from their parents' lifestyle, they don't know how to adapt to traditional village life either.
Strongly influenced by a society traditionally dominated by men, and despite recent improvements, Vanuatuan legislation is still very discriminatory towards girls and women. For example, a foreign woman requesting Vanuatuan nationality cannot request it for her children at the same time, while a man can.
But even when the law is fair, discriminatory cultural practices continue to disadvantage girls, who are less educated than boys and are more often the victims of violence. This comes in part from the belief that female menstruation has polluting and harmful effects.
The rights of handicapped children are not adequately protected in Vanuatu. Programs (notably early diagnosis) and services aimed at those children don't have sufficient resources to operate properly. As a consequence, they are poorly integrated in society.
The legal age of marriage for girls is 16, as opposed to 18 for boys. On certain isolated islands, children are sometimes married at even younger ages. Because of this, 13% of girls less than 19 years old are married or live in union. This promotes dropouts and early pregnancies at the expense of their health and education.
If child abuse isn't a phenomenon particularly widespread in Vanuatu, the government hasn't done enough to combat it. Although it is forbidden in schools, the use of corporal punishment is not forbidden at home.
Some traditional and cultural practices even encourage it in a general way in society, including in the judicial system.
Women and girls are particularly affected by violence. The custom where the future husband brings a dowry to the girl's family in exchange for marriage encourages the view of a woman as an object to be purchased. That often justifies violence in the eyes of society, even though the law doesn't consider this to be an acceptable excuse.
Violence in the family and cases of mistreatment and abuse, including sexual abuse, against women and children are therefore not investigated properly and aren't appropriately punished. Children who are victims of violence are not properly supported, either during legal proceedings or during their social reintegration.
In Vanuatu, incest is still considered an infraction for girls ages 15 or older.
This means that a young girl who is sexually abused by a parent will be treated as guilty by the law, and not as a victim.
This treatment dissuades children from reporting aggression and hinders any reparation for crimes.
Children in Vanuatu generally begin to work at a very young age, mainly due to limited access to education. The law forbids forced labour for children under 12, except in family agriculture where many of them help their parents.
Due to this low age limit and exception, many children work in conditions inappropriate for their young age.
The minimum legal age for criminal responsibility is fixed at 10 years, a limit much too low compared with the 15 recommended by international documents.
Additionally, court procedures applicable to minors do not conform to the appropriate international norms. Legal professionals and law enforcement lack resources and aren't sufficiently trained to properly take the specific needs of children into account.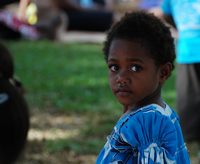 Furthermore, many villages favour resolving crimes and conflicts in a traditional manner (kastom faen). Because of this, it isn't uncommon that complaints filed with the police are later withdrawn following, at times, the intervention of a village leader.
These traditional judgments are not always fair and don't properly take into account the specific needs of children.
Customary laws still in force on the islands of the Vanuatu archipelago sometimes even allow children to be exchanged or given as reparation during the ruling of a conflict.
This exchange is seen as an asset for the child, who usually isn't cut off from his natural family, because he finds himself with a large extended family and therefore has greater protection. However, this custom promotes the view of children as objects and can disturb their proper development.