Bangladesh, the country exporting the most textiles after China, saw an increase of 88% in its Human Development Index over the last 30 years, and is set to join the Middle Income classification of countries by 2021 (Ministère des Affaires Etrangères, 2016). While the nation's dynamic economy resists economic and political crises, the social situation in the country remains poor. In addition to poverty and the ineffectiveness of many policies in the nation, Bangladesh has one of the highest school dropout rate in the world. Students leave school to work (therefore increasing the labor force) in factories and trafficking of all kinds.
Legislation ignored and kept from the public
Bangladesh has ratified 7 of the 8 fundamental conventions of the International Labour Organisation, which include the effective abolition of child labor. These clauses prohibit all forms of work that may harm the health, safety, or morality of a minor and sets the minimum age for working in developing countries at 14 years. These measures, however, are not always respected by the nation, according to annual reports of the Organisation (ILO, 2016).
The danger of workshops
Child laborers in Bangladesh work more than 64 hours per week, most often in textile factories (Quattri & Watkins, 2016). The ever-increasing demand of the market overshadows the regulation of working conditions: safety concerns are obsolete, electric installations antiquated, and space lacking. No less than 80,000 safety problems were cited in the 1,106 factories inspected in the nation (AFP, 2016) (AFP, 2014). These violations can lead to major human catastrophes, such as the collapse of the Rana Plaza factory in 2013 that caused the death of 1,127 people (AFP, 2016).
Sexual exploitation of young girls
For girls, a specific sort of trafficking is in place. Spotted in the street, certain young girls are driven not to the factory, but are recruited into prostitution in the numerous brothels in Bangladesh – when they are not sent to international prostitution networks. Datlauda is the biggest brothel in the country, located in the outskirts of the capital, Dacca. It has 2,000 prostitutes, including children younger than 15 (Rashid & Auer, 2015). Here, some of the same steroids used to impregnate cows are occasionally administered to younger girls to make them appear older (Rashid & Auer, 2015). Consequently, in addition to problems of sexual violence come drug problems that slowly eat away the bones and kidneys of young girls.
The impact of work on children
Immediate or long term effects of this sort of work on children are inevitable. Physically, this work can cause injuries and disabilities as well as metal poisoning, the symptoms of which amplify and arise many years after contamination. Psychologically, young workers may suffer from low self-esteem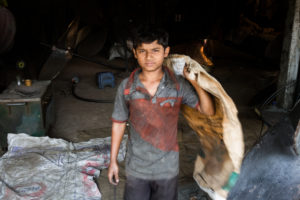 and mental trauma as a result of the substantial stress of the conditions and the nature of the work. Where access to education allows one to elevate himself or herself in society, child labor further consolidates the vicious circle of poverty.
Written by : Florine Tirole
Translated by : Katie Krakow
Proofread by : Salomé Guibreteau
AFP. (2016, April 24). Bangladesh : Des Ateliers Textiles Toujours Dangereux. Retrieved from Le Point.
AFP. (2014, October 14). Bangladesh : Des Problèmes de Sécurité dans Toutes les Usines de Textile. Retrieved from Libération.
Akash, G. (2016, December 19). 8€/mois pour du t-shirt. Il photographie le travail des enfants…. Retrieved from Mr Mondialisation.
Akash, G. (n.d.). Photo Series: Angels in Hell. Retrieved from GMB Akash.
Choné, M. (2016, December 8). Travail des enfants : 64 heures par semaine au Bangladesh. Retrieved from ConsoGlobe.
Ministère des Affaires Etrangères. (2016, August 3). Présentation du Bangladesh. Retrieved from France Diplomatie.
OIT. (2016). Normlex – Ratifications pour Bangladesh. Retrieved from International Labor Organization.
Quattri, M., & Watkins, K. (2016, December). Child Labour and Education: A Survey of Slum Settlements in Dhaka. Retrieved from Overseas Development Institute.
Le Quément, J. L. (2008). La Pauvreté Durable? Au Bangladesh et en particulier à Dacca. L'Harmattan.
Rashid, T., & Auer, S. (2015, February 9). Elles n'ont aucune chance de sortir du plus grand bordel du Bangladesh. Retrieved from Vice News.