In November 2016, the European Commission against Racism and Intolerance adopted General Policy Recommendation No. 16 regarding the protection of migrants against discrimination.  This tool draws particularly close attention to the protection of migrant children under irregular circumstances. The latter are among the most vulnerable as they are often unaccompanied[1].
Figure 1- The concept of refugee. Silhouette of famished refugee children near the border gate at sunset.
Migrant children are always the most vulnerable
Unfortunately, after having survived many trials and finally arrived on Greek soil, children migrating alone, without parents or relatives, receive the same treatment as adults. Upon their arrival on the Greek islands, they find themselves locked in police station cells and detention centers because of current migration policies. In detention, they face an increased risk of being abused and neglected. These children live in unsuitable sanitary conditions, with adults who are not from their family or close circle. These conditions favour the occurrence of abuses committed against them and by ill-treatment from the police.
According to Article 3 of the International Convention on the Rights of the Child, consideration of the best interests of the child should be the priority in all decisions of public or private institutions. Unfortunately, this principle is often overlooked in asylum and immigration procedures. With a massive influx of migrants, lack of space has made difficult the housing of all migrant children alone in appropriate places. Although Greek law confirms that detention is an exceptional measure and a last resort, it nevertheless allows the pre-trial detention of these children for 25 days with a possible extension of another 20 days. Since 2013, the Greek government had started retaining children for long periods of time at police stations, special shelters, or holding them in reception and identification centers called hotspots. Some children were locked up all day long, with only 30 minutes a day to go out. Moreover, in administrative detention centers, bed linens and personal hygiene products are not sufficient.[2]
In August 2017, the Greek government promised to place all unaccompanied children in special shelters or protection zones. Yet in December 2017, 54 unaccompanied children were still remanded in police stations or migrant detention centers.
In the long run, detention has a negative impact on children, hinders their development and promotes anxiety anddepression, as well as post-traumatic stress and memory loss. The majority of these children have gone through horrible experiences trying to escape war. On arrival, they do not have access to appropriate medical treatment, psychological counseling or legal aid. Very few even know the reason for their detention or for how long they will be locked up. This detention represents a violation of the rights of the child, as confirmed by the Secretary-General of the United Nations.[3] The European Court of Human Rights, too, claims that the administrative detention of unaccompanied children in an adult detention center amounts to inhumane treatment.
It is high time for the Greek authorities to review their practice concerning the preventive detention of unaccompanied minors.
What must Greece do?
In order to comply with its obligations towards the rights of the child, Greece must find open facilities for children who are still in detention. That is, it should build more shelters and find alternatives to detention that allow these children to go out in a reasonable fashion without the same treatment as a prisoner.
The Council of Europe has developed a strategy (2016-2021) for the respect of the rights of the child that we hope Greece will respect as soon as possible: the latter reaffirms that the principle of the best interests of the child must be the primary consideration in all decisions concerning children. It states that children should receive information tailored to their understanding and should be subject to procedures and services tailored to their needs and vulnerabilities.[4]
According to Human Rights Watch, Greece could also introduce a system of foster families that would benefit both irregular migrant children and Greek children.[5]
In reception centers, girls and women are more at risk for violence
Moreover, girls and refugee women face a higher risk of experiencing sexual violence due to overcrowding in the hotspots (the reception and identification centers) of the Greek islands. On February 16, 2018, the Office of the United Nations High Commissioner for Refugees (UNHCR) declared its concern for the safety of children and women in these places. It collected 622 testimonies from victims of sexual violence among the refugees who arrived in Greece in 2017. One third of the people claim to have been assaulted in Greece in the detention centers. Women and children are particularly vulnerable. [6] According to UNHCR spokeswoman Cécile Pouilly, toilets and latrines are no-go zones for women or children at night unless they are accompanied.  Even taking a shower during the day can be dangerous.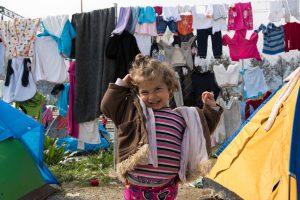 Figure 2 – EIDOMENI, GREECE – March 17, 2015: A young girl smiles in front of her tent in the refugee camp.
Unfortunately, the Greek government was not very collaborative in questioning the UNHCR report. The Ministry of Migration Policy accuses the report of being neither "deep" nor "scientifically grounded". Yet other human rights organizations such as Human Rights Watch (HRW) have raised the same concerns. HRW reports that, in 2016, in the Moria hotspot on the island of Lesbos, tents were erected on the paths of the site. In a massive warehouse where refugees were held, blankets were laid to create a minimum of privacy. And the camp, with a capacity of 2,330 people, was home to more than 6,000 people. The toilets were foul and people were struggling to get clean water.[7]
To protect women and children, UNHCR urges the Greek authorities to take vital measures: not to force women to share a shelter with men they do not know and to ensure separation in areas where people are showering. It also calls for the expansion of moral support, the increase of the police system, and the addition of staff in charge of the fight against sexual violence.[8]
And to protect children from abuse, UNHCR had already called in 2015 for a halt to the detention of children with adults.
Much remains to be done to protect these children: from the change in administrative policies that lock them up as prisoners to the mobilization of more resources for their protection and security. These children that have come from so far away dream only of living with dignity.
Written by: Menatalla Nour
Translated by: Denis Gingras
Proofread by: Beth Smith
[1] "Irregular migrant children are among the most vulnerable", says Council of Europe's Anti-racism Commission. (November 14, 2016). Internet site:  https://www.coe.int/en/web/children/-/european-day-to-end-child-sex-abuse-irregular-migrant-children-are-among-the-most-vulnerable-says-council-of-europe-s-anti-racism-commission.
[2] European Committee for the Prevention of Torture and Inhuman or Degrading Treatment or Punishment. (September 26, 2017). Report to the Greek government on the visits to Greece carried out by the European Committee for the Prevention of Torture and Inhuman or Degrading Treatment or Punishment. Internet site : https://rm.coe.int/pdf/168074f85d
[3] Council of Europe | Grèce: le comité anti-torture critique le traitement des migrants en situation irrégulière et le maintien en rétention de mineurs. (September 26, 2017). [Greece:  The anti-torture committee criticizes the treatment of migrants under irregular situations and the detention of minors]  [in French]  Internet site :   https://asile.ch/2017/09/26/conseil-de-leurope-grece-comite-anti-torture-critique-traitement-migrants-situation-irreguliere-maintien-retention-de-mineurs/.
Council of Europe. The Parliamentary Campaign to End Immigration Detention of Children.  Internet site: http://website-pace.net/en_GB/web/apce/children-in-detention.
[4] Council of Europe Strategy for the right of the Child (2016-2021). (March 2016). Internet site: https://rm.coe.int/168066cff8
[5] Tilianaki, M. (January 23, 2018). Asylum-Seeking Kids Locked Up in Greece. Internet site: https://www.hrw.org/news/2018/01/23/asylum-seeking-kids-locked-greece
[6] L'ONU alerte sur des violences sexuelles qui visent les réfugiés en Grèce (February 9, 2018) [The UN warns of sexual violence on refugees in Greece] [in French]  Internet site:
https://www.lexpress.fr/actualite/monde/europe/l-onu-alerte-sur-des-violences-sexuelles-qui-visent-les-refugies-en-grece_1983672.html
[7] Margolis, H. (February 14, 2018). Misery for Women and Girls in Greece's Island Paradise. Internet site :
https://www.hrw.org/news/2018/02/14/misery-women-and-girls-greeces-island-paradise.
[8] Grèce : le HCR alerte sur les violences sexuelles dans les centres d'accueil de réfugiés à Lesbos et Samos. (February 9, 2018). [Greece: UNHCR warns of sexual violence in refugee reception centres of Lesbos and Samos] [in French] Internet site:  https://news.un.org/fr/story/2018/02/1005241