Our local partner for over 10 years Hand in Hand India, has been awarded with the Pradhan Mantri Rashtriya Bal Kalyan Puraskar from the Honorable President of India, Shri Ram Nath Kovind.
This award recognises Hand in Hand India's work in the field of alleviating child labour having mainstreamed over 300,00 children into Government Schools. Hand in Hand India is one of the three institutions from across India to have received this prestigious award solidifying their work towards education of marginalised children.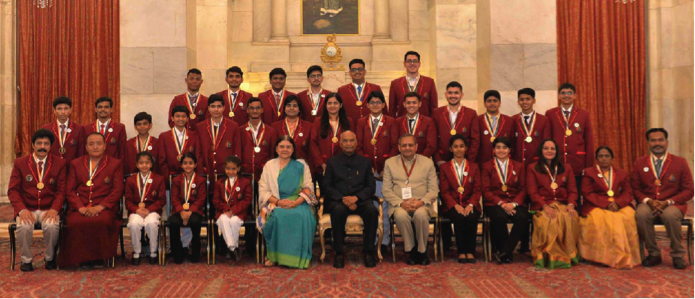 Humanium and Hand in Hand India have been working together since 2008 focusing their efforts to bring an end to child labour in India.  Humanium currently supports 3 non residential special training centres in Madhya Pradesh housing 80 children. After ten projects successfully implemented in the field, we are currently working on fundraising for a Residential Special Training Centre for former child and bonded labourers in Madhya Pradesh.

The goal of this project is to end child labour through education, offer tailored educational, physical, mental and emotional support, and ultimately to reintegrate the children into public schools. The beneficiaries will be not only the 50 girls who will be welcomed into the centre, but also 7000 inhabitants of the region.

The primary objective of the Special Training Centre is to rebuild social bonds and reduce the children's intellectual and physiological developmental delays. To this end, special educational materials are used and which are designed specifically for these children, who have lost years of their education. The environment is safe, comfortable, healthy and enjoyable.
100% of the children integrated into a public school following their time at the centre

Up to 90% of the children finish their secondary education and can therefore continue their studies, attend a vocational training or seek formal employment.
Thanks to the joint effort of Humanium and Hand in Hand India, children in Madhya Pradesh have the opportunity to start again and radically change their future.