In Mali, children make up more than half of the population and hundreds of them have joined armed groups. Like all child soldiers belonging to such groups, they may be subjected to arbitrary executions, torture, kidnapping and sexual abuse.
Although the conflict in Mali began in January 2012, it was not until June 2013 that the country was included on the "list of shame". The reason for Mali's inclusion on the list is their recruitment of child soldiers in armed conflicts.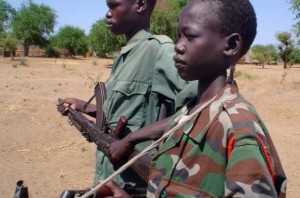 Mali, until that point a peaceful country, was faced with a rebel invasion in the North in January 2012, led by the Tuareg from the National Movement for the Liberation of Azawad (MNLA) and also the jihadist group Ansar Dine. These two armed groups, supported by the Movement for Unity and Jihad in Western Africa (MUJAO) are on the one hand, accused of having recruited child soldiers into their ranks, and on the other hand, of having perpetrated acts of violence against these children. Captain Amadou Aya Sanogo (who enjoys significant armed backing and some degree of general support) took possession of the country during a coup and since 12th April 2012, the transitional president, Dioncounda Traoré, has failed to restore peace and organise transparent elections.
Some children have been sold to arms groups by family members or school officials in exchange for money. Alternatively, children themselves may have been lured in by money and the appeal of an apparently 'adventurous' life.
Their recruitment is coupled with the destruction and closure of schools. It is estimated that 200,000 Malian children have not had access to education since the conflict began. Images of children sitting on school benches have been replaced by those of minors being dwarfed by their oversized military uniforms, struggling under the weight of their heavy weaponry. International organisations have also denounced the government's detention of children suspected of being soldiers for the rebel groups.
Despite the intervention of France, (Upon the request of Mali's President Dioncounda Traoré) and the UN resolution to take military action to liberate the country, children's rights continue to be violated. These children are surrounded by violence throughout their childhood, which gradually becomes their only kind of education and culture. Thus there is a considerable risk that these children endure severe trauma giving rise to violent behaviour in adulthood. Given that handling arms is the only skill they possess, there are fears that they will later be incapable of integrating into peaceful society, or of even understanding the concept of the family unit.
For more information about child soldiers, clic here.