On October 2nd this year, we are celebrating the 150th anniversary of Mahatma Gandhi, Indian philosopher and activist, defender of the nonviolence school of thought. (Ministry of Culture Government of India, n.d.) Gandhi's impact was so immense in India, and he was considered a hero, that his birthday is a national holiday, called the festival of Gandhi Jayanti. (Withnall, 2018) In 2007, his birthday also became the International Day of Nonviolence (declared by the United Nations General Assembly). (United Nations, n.d.)
Born in 1869, Gandhi fought for India's independence from British rule, after returning from South Africa where he began his protests. He was an anti-colonial nationalist that advocated for nonviolent resistance. (Hardiman, n.d.) He preferred soul-power, over the power of the gun. In the anti-colonial context, he thought it best to non-violently communicate to the colonialists that India wanted its independence. His ideas, at the time, were thus shaped as a reaction to the threat of colonialism. (Ministry of Culture Government of India, n.d.)
There is also an increasing awareness concerning Gandhi's racist and sexist views, regarding his treatment of South Africans and his comments on women, respectively. Even though he brought about the world the important concept of nonviolence, Gandhi was not a perfect man. (Sen, 2015)
Global impact and global movement of Gandhi the philosopher
However, his ideas and actions are still very important today because they can be applied to many situations of violence throughout the world. In fact, shortly after Gandhi was assassinated, post hunger strike, it was Martin Luther King, Jr. in the United States that picked up nonviolent activism for the Civil Rights Movement. (Ministry of Culture Government of India, n.d.)
Although their movements were mainly nationally lead, they had impacts throughout the world. Across the globe, nonviolent action has aspirations for "world peace, individual empowerment, and societal transformation." It was a philosophy of strong resistance to unjust and immoral movements, without violence, which has been so prominent throughout history. Violence from the authorities and the states have been, in the past, particularly intense, and have often incited violence from the citizens.
Gandhi proposed a new world order with nonviolence. (Ministry of Culture Government of India, n.d.) Nonviolence proves to be a form of peaceful resistance, where the citizens are not obliged to cooperate and consent to the power of rulers, as that is the principle of democracy (that rulers need the consent of the people in order to rule) (Ochab, n.d.). The UN defines nonviolent action in three main ways: protest and persuasion with marches and vigils, non-cooperation, and nonviolent intervention such as blockades and occupations. (United Natons, n.d.)
At Humanium, we promote Gandhian philosophy
Gandhi's ideas are particularly important for us here at Humanium as we advocate for nonviolence in every project we sustain. We support a methodology that not only condemns violence, but aims in every way to promote nonviolent communication and actions.
In Rwanda, our projects focus on liberating children and adults from the multiple trauma of the extremely violent Rwandan genocide of 1994. In particular, our project focuses on healing humans and stepping out of the cycle of violence that has been living in and amongst them since those terrible other times. In India, our projects focus on ending child labor, an also violent practice still utilized throughout the world. Indeed, our projects focus on promoting world peace for children, and eradicating violence.
Furthermore, Humanium works with Life coaches, psychologists, leadership graduates, and Somatic Experiencing therapists that engage in verbal conversations with the civilians in question. We value talking, as we believe conversations are nonviolent means of helping out children and people in difficult situations. Sustainable development projects, as the ones we conducted in India, are important ways of advocating nonviolence by promoting peace. Nonviolence can also positively shape the education of children.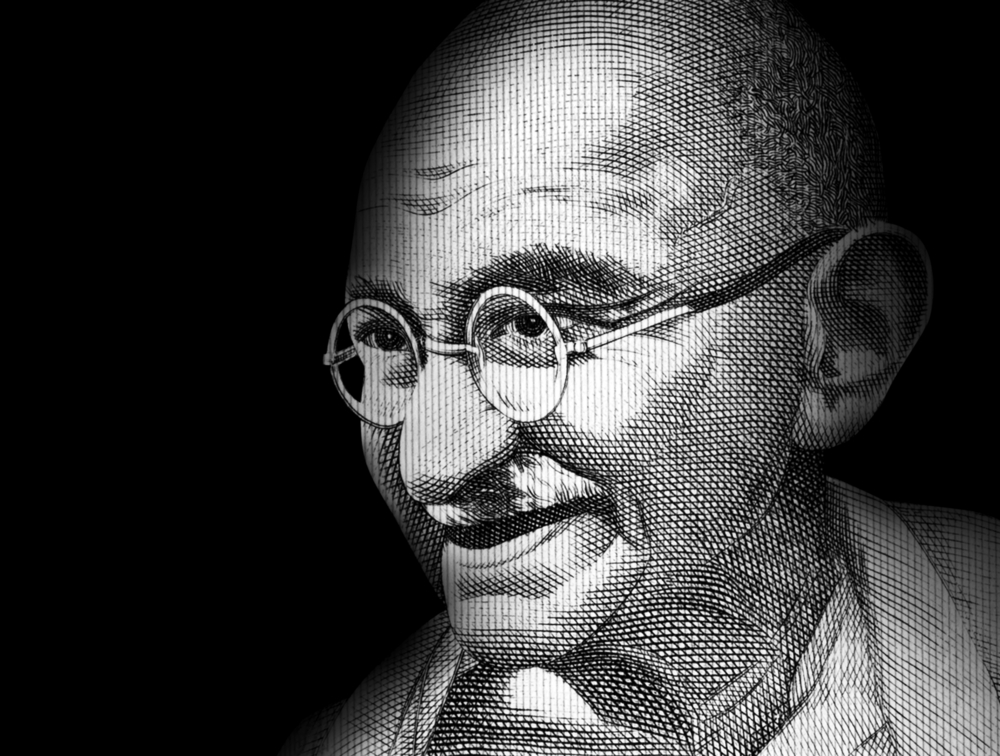 As said by Gandhi himself, "if we are to reach real peace in the world, we shall have to begin with the children." It is true that nonviolent ways of education have proven more effective. We thus hope as an NGO, with our projects, to encourage children to nonviolently stand up for themselves, and express themselves completely. As Gandhian philosophy has influenced us immensely, we celebrate Gandhi's 150th birthday, and the International Day of Nonviolence, and encourage others to do so.
Official celebrations conducted by India's government
Officially, the government of India has created a Committee in order to take charge of the celebration of the 150th birthday, at the national and the international level. The National Committee, headed by Hon'ble Prime Minister, has been created for this purpose. It includes Gandhians, and people from all walks of life. The Ministry of Culture of India proposes, through its Gandhi website, many activities throughout the upcoming years celebrating Gandhi.
The upcoming projects range from painting exhibitions, to street plays about cleanliness, to youth conferences. (Ministry of Culture Government of India, n.d.) This planning began the day after the 149th birthday, and will go on for two years, kicking off the celebrations with an exhibition in the National Museum of Gandhi in Delhi in October 2018, with the robe that Gandhi was wearing when he was assassinated, and an audio recording of Gandhi's heartbeat. (Ganapathy, 2018)
Moreover, the government has shown a gallery of commemorative stamps on its website. Nationwide, they launched the Imagine Gandhi Contest, in order to promote Gandhi's teachings through virtual reality creations. In February 2019, the government organized a Drive for Peace, during which participants drove through India, Bangladesh, and Myanmar, in order to promote the idea of road safety.
The government also planned Gandhi Global Solar Yatra, aiming to sensitize the youth to solar methods beneficial to climate change initiatives. Lastly, as a large project, there was the Gandhi Peace Prize Award, giving an award to individuals, associations, institutions, or organizations "who have worked selflessly for peace, non-violence, amelioration of human sufferings," which was held in February 2019.
Global celebrations
Outside of India's official activities, there are also other ways to celebrate Gandhi. For example, Audley Travel, a UK travelling agency, proposes a trip to India to visit Gandhi's frequented places, passing by museums and universities established by Gandhi, in order to better understand the man and the movement he led in India. It takes 16 days, and can still be completed. (Magyarics, 2019)
The UK, with the participation of the Indian High Commission, celebrated the beginning of the 150th anniversary in October 2018, with the showing of the 'Bapu150' film in Piccadilly Circus, a work celebrating Gandhian ideas on nonviolence. (Press Trust of India, 2018) There are thus opportunities across the globe to celebrate nonviolence and the benefits it has brought us. The UN has also celebrated Gandhi, in the past, with the International Day of Nonviolence. Notably, in 2009, they issued a commemorative stamp with Gandhi's portrait. This helped raise awareness. (United Nations, n.d.)
On October 2nd, celebrate nonviolence!
Throughout the world, there are multiple celebrations. There are many talks, conferences, and entertaining events that aim at celebrating the work of the man who shaped nonviolence philosophy. We encourage our readers to research what they can do in their community in order to celebrate whether that be attend talks, or participate in sanitation projects.
Ways to celebrate:
Gandhi Official Website https://gandhi.gov.in/events-calendar.html
UN Website https://www.un.org/en/events/nonviolenceday/index.shtml
Written by Leah Benque
References
Ganapathy, Nirmala. (2018, October 3), "Gandhi's 150th birthday celebrations kick off," The Straits Times. Retrieved from The Straits Times Asia: https://www.straitstimes.com/asia/south-asia/gandhis-150th-birthday-celebrations-kick-off
Hardiman, David. (n.d.), "Gandhi: Reckless teenager to father of India," BBC News. Retrieved from BBC News Timelines: https://www.bbc.com/timelines/zpdqmp3
Magyarics, Kelly. (2019, May 12), "Celebrate the 150th anniversary of Gandhi's birth with a customised tour in India," Lonely Planet. Retrieved from Lonely Planet: https://www.lonelyplanet.com/articles/gandhi-tour-india-anniversary
Ministry of Culture Government of India. (n.d.), "From Mohan to Mahatma," Gandhi Government. Retrieved from 150 Years of Celebrating The Mahatma: https://gandhi.gov.in/index.html
Ochab, Ewelina U. (n.d.), "Commemorating The International Day Of Non-Violence," Forbes. Retrieved from Forbes Sites: https://www.forbes.com/sites/ewelinaochab/2018/10/28/commemorating-the-international-day-of-non-violence/#53fd97e85c4a
Press Trust of India. (2018, October 2), "UK marks Gandhi Jayanti with iconic screening of 'Bapu@150' film at Piccadilly Circus," Business Standard. Retrieved from Business Standard: https://www.business-standard.com/article/pti-stories/uk-marks-gandhi-jayanti-with-iconic-screening-of-bapu-150-film-at-piccadilly-circus-118100200662_1.html
Sen, Mayukh. (2015, December 3), "Gandhi Was a Racist Who Forced Young Girls to Sleep in Bed with Him," Vice. Retrieved from Vice: https://www.vice.com/en_us/article/ezj3km/gandhi-was-a-racist-who-forced-young-girls-to-sleep-in-bed-with-him
Sharma, Aman. (2018, November 22), "Govt plans series of events across the globe to celebrate 150th birth anniversary of Mahatma Gandhi," Economic Times. Retrieved from Economic Times India Times: https://economictimes.indiatimes.com/news/politics-and-nation/govt-plans-series-of-events-across-the-globe-to-celebrate-150th-birth-anniversary-of-mahatma-gandhi/articleshow/66753207.cms?from=mdr
The Pioneer. (2018, October 3), "'Karyanjali' launched to mark Mahatma's 150th birth anniversary," The Pioneer. Retrieved from The Pioneer State Editions: https://www.dailypioneer.com/2018/state-editions/—karyanjali—-launched-to-mark-mahatma—s-150th-birth-anniversary.html
United Nations. (n.d.), "International Day of Non-Violence," United Nations. Retrieved UN Events: https://www.un.org/en/events/nonviolenceday/index.shtml
Withnall, Adam. (2018, October 1), "Gandhi Jayanti: Mahatma Gandhi's heart beats again as India begins celebrating his 150th birthday," Independent. Retrieved from Independent UK: https://www.independent.co.uk/news/world/asia/gandhi-jayanti-mahatma-gandhi-birthday-heart-celebrations-happy-holiday-a8564036.html