Children of Lithuania
Realizing Children's Rights in Lithuania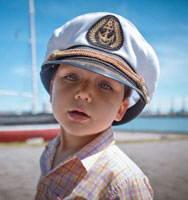 Since its independence, one of Lithuania's main priorities has been the protection of children. Consequently, today's situation is good, in general, even if certain rights are only partially guaranteed.
Main problems faced by children in Lithuania :
According to the figures, poverty is not a major problem in Lithuania. However, the lowest social class must make numerous compromises in order to maintain rather high standards of living. And consequently, the situation of some children is largely affected by these compromises.
A child's right to live in a healthy and stable family environment is therefore somewhat neglected : both parents continue to work hard and are left with little time to devote to their children. The number of women who have children under the age of 6 and need to work is much higher than the European average.
Yet, Lithuanian children face problems stemming from poverty : in 2008, the child poverty rate rose to 22.8%, and was even higher in single parent families as well as in large families. In Lithuania, an increased aid for these families is not a priority. Therefore, when Lithuania experiences financial difficulties, allocated support to families, such as family allowances, are reduced : for example in 2010, family allowances were decreased by 10% because of the financial crisis.
The large financial burden of child maintenance in Lithuania is discouraging for many women, so much so that the country's birth rate is very low (on average 1.47 children per woman).
With around 8% of children unschooled, children's right to education is not fully guaranteed in Lithuania. This problem is especially affecting young girls.
However, it must be noted that Lithuania has made much progress in education since its independence. In fact, the Baltic countries have put education at the top of their list of reforms and efforts for progress. The results of this policy can be felt through substantial and well-publicized improvements in children's access to education.
Children should be protected, both inside and outside of the family environment. In Lithuania, children's right to protection is scoffed at because of the lack of prevention and knowledge about children's emergency and rescue procedures.
Also, Lithuania has a relatively high injury death rate (burns, poisonings, drownings, driving accidents etc.) The country therefore has to make progress in prevention and child safety in order to completely ensure a child's right to protection.
The acceptance and integration of disabled children has been difficult in countries of the former Soviet Union. Still today, handicapped children in Lithuania do not have all of the assistance that they require.
Drop-in centers, in particular for young people suffering from mental disorders, are outdated. There is a lack of qualified personnel and the buildings are very old.
In addition, handicapped people are not considered for what they are, and instead they are considered as a source of difficulty to their families. As such, Lithuanian legislation does not make any provisions for the social integration of these people and they are doomed to remain isolated and invisible in the eyes of society. The mentality of the Lithuanian people must change in this area and they must accept that handicapped people have an integral role in society and as such, have a right to play a role in it.
The countries of Eastern Europe are unfortunately known for easy access to prostitution. Even though there is firm and strict legislation in place, Lithuania remains a hot spot for sex tourism.
Many children are employed in these networks and as a result, in Lithuania, more than 20% of prostitutes are minors, some only 11 years old. Other children have even been exploited in the making of pornographic movies.
Environment
With 4.2 tons of CO2 emissions per capita per year, Lithuania still needs to make progress to protect the environment and reduce its carbon footprint. This too has a harmful impact on the lives and future prospects of children. Their right to live and grow up in a healthy environment is not well respected.