By adopting a "zero" tolerance policy for undocumented migrants arrested at the United States border, Donald Trump's administration is separating thousands of children from their parents. Across the US and the entire world, people among the civil society, politicians, judges but also the international community, have voiced their opposition to the Trump administration's inhumane immigration policy. The United Nations Organization urged Washington to "immediately halt" its controversial practice of separating families entering the US.
Background
While the incarceration of illegal immigrants and family separation is not new in the United States, it has taken on a whole new dimension since the new presidency. The Obama administration and previous governments focused on civil proceedings against illegal immigrants liable to expulsion. Children were separated from adults they entered the United States with when their relationship could not be established, in case of suspicion of children's trafficking or of lack of space in families detention centers.
President Trump has cast a much wider net and his executive order marked a very troubling step backward with respect to Obama-era immigration framework. Authorities under Trump's leadership decided to systematically prosecute and detain foreigners who entered the United States illegally and to entrust their children to the Office of relocalization of refugees (ORR).
In 2017 President Trump deported more than double the number of non-criminals than Obama the previous year. This trend has only added weight to the concerns of international bodies such as the United Nations. Between October 1, 2017 and May 31, 2018, at least 2,700 children have been separated from their parents. 1,995 of them were separated over the last six weeks from April 18 to May 31. At that time, an average of 45 children were being taken from their parents each day as the Trump administration accelerated its stricter border enforcement policies. In April 2018, Attorney-General Jeff Sessions announced a "zero tolerance" policy according to which illegal entrants to the United States would be prosecuted in federal court.
What the law states
The Immigration & Naturalization Act (ICA) is the primary federal law governing the current immigration policy which is shaped by certain overriding principles: family reunification, admission of skilled immigrants who are of special value to the US economy, diversity and refugee protection.
The Flores Settlement was created to ensure nationwide standards on the treatment, detention and release of children in federal government custody. The settlement binds the Department of Health and Human Services (DHS) and the Office of Refugee Resettlement (ORR).
The Trafficking Victims Protection Reauthorization Act (TVPRA) contains provisions to protect unaccompanied alien children (UAC) in the US. The statute requires the Secretary of DHS in conjunction with other federal agencies to develop policies and procedures to ensure that UAC in the US are safely repatriated to their home country.  Together, the Flores Settlement and the TVPRA place specific legal obligations on the federal government to treat children with dignity and special concern at all stages of the process: human apprehension, safe and sanitary detention, and prompt transfer from immigration enforcement (CBP or ICE) to protective custody (ORR).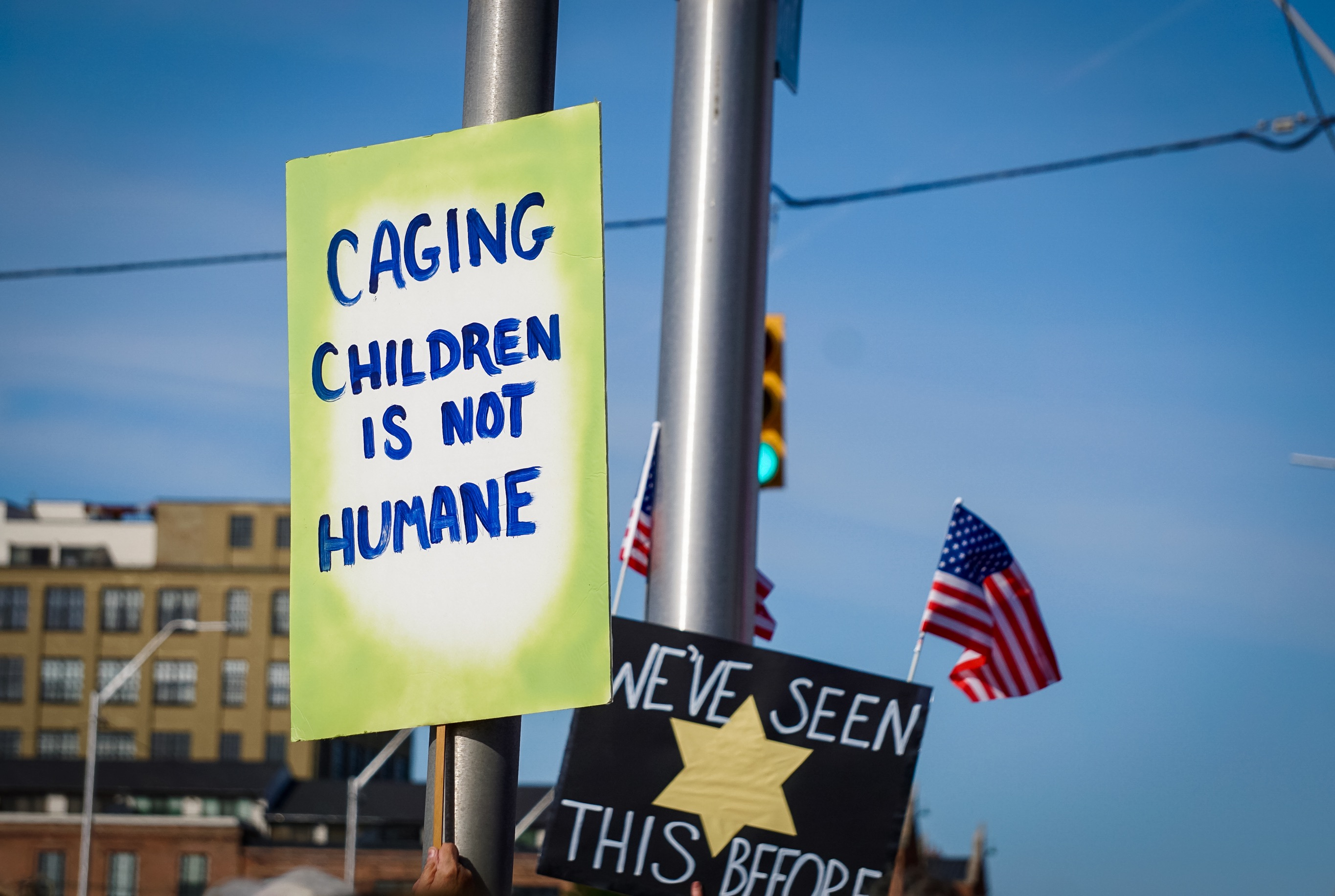 On June 5th 2018, Ravina Shamdasani, UN human rights office spokeswoman, said that the new policy had "led to people caught entering the country irregularly being subject to criminal prosecution and having their children, including extremely young children, taken away from them as a result. The US should immediately halt this practice. The practice of separating families amounts to arbitrary and unlawful interference in family life and is an infringement of the rights of the child".
Under Article 3 of the United Nations Convention on the Rights of the Child (hereinafter UNCRC); the best interest of the child should always be paramount, especially in migration matters.  Even though the US is the only country not to have ratified the UNCRC and has stated its intention not to do so, it is still bound by international human rights law.
Justification for Policy
White House Chief of Staff, John Kelly, stated that the separations would be a "tough deterrent" for migrants coming to the US. The Attorney-General Jeff Sessions added that the policy a legitimate warning to people wishing to enter the US with their children. The practice of tearing children apart from their parents to keep others from coming appears to be abusive and completely unjustifiable.
"Illegal entry into the United States is a crime, as it should be" declared Attorney General Jeff Sessions during a speech to law enforcement officers in Fort Wayne, Indiana. He added "Persons who violate the law of our nation are subject to prosecution"

. Later, White House press secretary Sarah Sanders defends Sessions's comments, telling reporters at a press previewing, "I can say that it is very biblical to enforce the law, that is actually repeated a number of times throughout the Bible," though she declined to cite specifics.

Furthermore the US policy aims to stem the increasing number of underprivileged families, mostly coming from Guatemala, El Salvador and Honduras, from entering the country. Thousands cross the US-Mexico border seeking asylum but voluntarily turn themselves in to legitimise their entry. William Spindler, of the UN refugee agency, echoed that "the right to claim asylum is a fundamental human right and it is also part of the US law".
The effects of this policy
The Office for Civil Rights and Civil Liberties (hereinafter CRCL) released approximately 4,600 pages of records consisting of complaints submitted by legal practitioners and immigration rights lawyers on behalf of migrant children, detailing various forms of abuse. The CRCL records also comprise internal documents which reveal a pattern of intimidation, harassment, physical abuse, refusal of medical services and improper deportation.
The American Civil Liberties Union (hereinafter ACLU) filed last February a lawsuit to challenge this practice. The ACLU is suing the government on behalf of a Congolese asylum seeker whose 6-year-old daughter was taken away from her and housed in government custody  over several month more than 2,000 miles away. According to the government the legal papers could not confirm a relationship between the two, wheres the ACLU argued that a DNA test could have quickly established the relationship.
Current Developments
Following national and international outcry, Donald Trump signed an executive order on June 20th mandating that families entering the US illegally would no longer be separated under his administration's "zero-tolerance" immigration policy but gave minimal indication on when or how they were intending to reunite families. 

On 26th of June, seventeen states sued Mr. Trump for his administration's practice of separating immigrant parents from their children, saying that the tactic is causing "devastating harm". The states, including Washington, California and New York, joined by the District of Columbia, condemned the forcible separation of immigrant families as "unconstitutional, cruel and unlawful" and a  violation of the principles of due process and equal protection.
Dana Sabraw a district court judge in San Diego, issued a nationwide injunction summoning US immigration agents to no longer separate parents and children crossing the border from Mexico illegally and to reunite within 30 days families that have been split up. Judge Sabraw stressed that children under 5 must be reunited with their parents within 14 days and ordered that all children must be allowed to talk to their parents within 10 days.  According to judge Sabraw, children may only be separated at the border if the adults accompanying them present an immediate danger to the children. He also ruled that adults may not be deported from the United States without their children.
 On Monday, 9th of July judge Sabraw granted the Trump administration more time to reunite the 102 migrant children under 5 years old with their parents, as the government struggles to reunite families shattered by its "zero tolerance" immigration policy.
Fortunately this policy has been put to an end but there is still a lot of uncertainty as to how and when the administration will reunite this families.
We strive to uphold the rights of every child in the world,  by sensitizing adults and children about our cause, by changing attitudes, and  by working directly in the field.
Visit our website https://www.humanium.org/en/ to learn more about children's rights and our work, to contact Humanium's team, and to stand beside us in improving the life of thousands of children throughout the world !
Written by: Igi Nderi & Anja Finke
Proofread by: Charlotte Madrangeas
References
Burrola, A. (2018). US Policy Forcibly Separating Children from Parents Is Inhumane. [online] Human Rights Watch. Available at: https://www.hrw.org/news/2018/06/01/us-policy-forcibly-separating-children-parents-inhumane [Accessed 19 Jul. 2018]
Burton, T. (2018). The racist history of the Bible verse the White House uses to justify separating families. [online] Vox. Available at: https://www.vox.com/2018/6/15/17467818/bible-verse-white-house-immigration-racism-romans-13 [Accessed 19 Jul. 2018]
Lind, D. (2018). The Trump administration's separation of families at the border, explained. [online] Vox. Available at: https://www.vox.com/2018/6/11/17443198/children-immigrant-families-separated-parents [Accessed 19 Jul. 2018]
McEntee, J. and Rosenberg, M. (2018). U.S. says it will separate families crossing border illegally. [online] Reuters. Available at: https://www.reuters.com/article/us-usa-immigration-children/u-s-says-it-will-separate-families-crossing-border-illegally-idUSKBN1I82AB [Accessed 19 Jul. 2018]
ACLU of San Diego and Imperial Counties. (2018). Neglect & Abuse of Unaccompanied Children by U.S. Customs and Border Protection – ACLU of San Diego and Imperial Counties. [online] Available at: https://www.aclusandiego.org/civil-rights-civil-liberties/ [Accessed 19 Jul. 2018]
News, A. (2018). ABC News. [online] ABC News. Available at: https://abcnews.go.com/International/wireStory/calls-us-halt-separations-migrant-families-55653194 [Accessed 19 Jul. 2018]
Rosenberg, M. (2018). Exclusive: Nearly 1,800 families separated at U.S.-Mexico border in…. [online] Reuters. Available at: https://www.reuters.com/article/us-usa-immigration-children-exclusive/exclusive-nearly-1800-families-separated-at-us-mexico-border-in-17-months-through-february-idUSKCN1J42UE [Accessed 19 Jul. 2018]
Shear, M., Davis, J., Kaplan, T. and Pear, R. (2018). Federal Judge in California Halts Splitting of Migrant Families at Border. [online] Nytimes.com. Available at: https://www.nytimes.com/2018/06/26/us/politics/family-separations-congress-states.html [Accessed 19 Jul. 2018]