Children of Mozambique
Realizing Children's Rights in Mozambique
The situation in Mozambique is dramatic. Every child is a survivor in this country, where the most basic rights are violated over and over again.
Realization of Children's Rights Index : 5,85 / 10
Black level : Very serious situation
Population: 24,1 million
Pop. ages 0-14: 45,6 %
Life expectancy: 50,3 years
Under-5 mortality rate: 57 ‰
Main problems faced by children in Mozambique:
The poverty level is extremely high in Mozambique, since 70% of the population lives below the poverty line. This difficult economic situation, most severely affects the situation of children. Frequently, the lack of financial resources is a significant barrier to the enjoyment of their fundamental rights. They experience many problems; such as the inability to access school, health-care, and housing…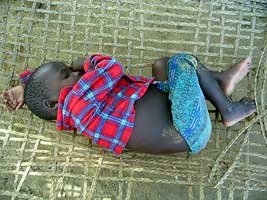 Health indicators are more alarming in Mozambique:  with a life expectancy of 48 years, infant mortality rate of 142‰, and a premature birth rate of 15%. The leading cause of death is postnatal malaria. However, by detecting the disease early, the severity of this sickness can be lessened.
The lack of sanitation and hygiene causes the spread of many diseases (diarrhea, cholera…). Toilets are few and safety is, for people there, a vague notion that they know neither the need nor the means. Being malnourished, the health of the children worsens. Suffering from hunger, they are much more vulnerable and fragile in the face of disease.
In addition, the poor state of health care facilities and the lack of personnel in the hospitals, particularly in rural areas, represent severe obstacles for the health of children.
The rate of HIV prevalence in Mozambique is the fourth highest in the world. To fight against this scourge, the country has made real progress in preventing, informing, and screening for the disease. Nevertheless, AIDS remains a problem for the health of children. In Beira (the second largest city in the country), it is estimated that almost one out of every three pregnant women is HIV positive. Mother/child transmissions is too common and one child out of ten dies before the age of 10. In addition, an estimated 400,000 children in Mozambique have become orphans because of AIDS.
AIDS, in addition to having a serious impact on children's health, is also a major source of discrimination in Mozambique. HIV-positive children are ignored and poorly treated by the rest of the population.
In Mozambique, one child out of five is not educated. School is neither mandatory nor free.
For those who go to school, study conditions are very different from the conditions of those in developed countries. The state of the buildings is horrendous, school equipment and facilities (chairs, tables, desks…) are in bad shape or absent.
Moreover, the figures show a discrepancy of the education between boys and girls. The classes have a majority of young boys. This is in part because of the profusion of harassment and sexual violence in schools toward girls.
The Committee of Rights of the Child is particularly concerned with allegations that the police would often use violence against children. Illegal arrests, torture and mistreatment are all common.
Abuse within the family and school is also widespread in Mozambique. Not exactly restricted, corporal punishment occurs, for example, as the best method to educate children. Whether at their homes or in school, children suffer from violence inflicted upon them. The impact can sometimes be serious to their physical and mental health.
There are an estimated 1.47 million children in Mozambique that are orphans. Entirely independent on themselves, services that help these children are almost non-existent. Most of the children can be found in the streets, without a way to escape.
They live in difficult situations and have to worry about many dangers. They are much more vulnerable to commercial and sexual exploitation. Access to services such as education and health…are largely restricted from them.
In Mozambique, while the law requires a minimum age of 18 to get married, half of young girls are married when they are still minors. This practice has heavy consequences on both an emotional and psychological level. Young girls are forced into non-consensual relations with their husbands. The transition to adulthood is challenging for them, since they do not experience their adolescence.
Nearly one third of children in Mozambique work. Many of these children are forced to work in the family business, with livestock, and on cotton, tobacco, or tea plantations.
On the legislative level, the minimum age to work is 15 years old for working in non-hazardous conditions. However, no list has been made of what constitutes hazardous work. Thus, the impact of this law is significantly weakened.
Orphaned children placed in foster care are particularly affected by this issue. Many of them are exploited, in a way similar to slavery. For others they don't have much of a choice, and so to survive, they are sometimes forced into prostitution.
The forced recruitment of children into armies was common during the recent armed conflict. Today, though the war has ended, the problem of child soldiers persists nonetheless. They are no longer involved in combat but the repercussions of having lived their childhood in armed groups are many. Confronted by violence, torture, and cruelty of war, their health and moral development is chaotic, and their re-immersion into society is very difficult.
Despite recent efforts by the government to eradicate this practice, the trafficking of children persists in Mozambique. Children, especially in rural areas, are taken and forced to do all types of work.
Young girls are often used in sexual exploitation, or domestic work in neighboring countries. Some boys are equally integrated into the sex trade, experiencing violence and extreme torture.
Only 30% of births are declared in the public registry. Unregistered children are not officially recognized as members of society and therefore they cannot assert their rights. Thus to the community they are invisible.