Children of Moldova
Realizing Children's Rights in Moldova
In Moldova, also known as the Republic of Moldova, children suffer numerous violations of their rights. Many children (especially migrants and those belonging to other minorities) are marginalized and forced to the edge of society where they live in difficult conditions.
Main problems faced by children in Moldova:
Over a quarter of the inhabitants of Moldova live below the poverty line; almost 30% of whom are children. Obviously, their well-being is negatively affected by this economic reality as they do not have sufficient resources to fulfill many of their needs; even the most basic ones.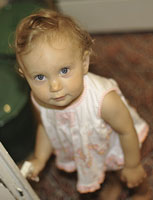 Over the past few decades, Moldova has considerably improved their health care services. Thus, a positive impact on health care indexes can be seen, especially those pertaining to younger children. However, problems are still prevalent and thus pose serious obstacles to enabling full access to health care.
Financial resources in this landlocked nation are still quite modest. For example, there are not nearly enough funds to provide adequate care to all, especially the more poor families. Further, medical supplies are often insufficient and staffs are untrained. In addition, hygiene and sanitary norms sometimes do not match up to the required standards.
In Moldova, the rate of HIV infection is increasing. The number of HIV-positive children is especially high and transmission of the virus is on the rise.
This increase could be slowed or stopped by a more effective awareness and prevention campaign targeting children and young people.
Almost one in ten Moldovan children does not attend school. This rate has increased in recent years, mostly due to the fact that school attendance depends largely on a family's economic situation.
Furthermore, school supplies and infrastructure are of poor quality, and neither contributes to favorable learning conditions for students. It is unfortunate to note that the quality of teachers is also lacking.
Moldova has passed many legislative enactments to prohibit child labour.  However, much of the legislation is ineffective and the practice still continues.  More than 30% of children in Moldova work for remuneration.
Unfortunately, some children have no choice but to take on the worst jobs possible. Hence, they are sometimes victims of trafficking, either through forced labor or sexual exploitation.
Children of religious or ethnic minorities are often victims of discrimination. Romani children (gypsies) are especially affected by this problem. They routinely have difficulties accessing public services such as education, health care and others.
For example, the rate of school attendance among Romani children is much lower than average. Only half of them regularly attend secondary school.
The terrible economic climate in Moldova leads some to flee the country. Some families even abandon their children and leave them to fend for themselves.
Naturally, many of these children also choose to leave the country as well. They often flee to Ukraine or Russia dreaming of an easier life and a better future. Sadly, their hopes and expectations are usually shattered when they arrive along in a new country, which lacks services to welcome and care for them. They live on the streets in constant danger, becoming victims of trafficking and easy prey for certain adults who will not hesitate to take advantage of them.
The Committee on the Rights of the Child has expressed concern about the practice of corporal punishment for children.These punishments are generally accepted by the Moldovan population as the best method of discipline, at home and at school. However, such violent punishments can have negative consequences on the physical and mental health of children.
19% of girls in Moldova are married before the age of 18 and this can negatively affect their well-being as they may be unaware of the consequences of their new status as a wife.
Furthermore, they do not always choose their husband and therefore can be forced into non-consensual sexual relations, which can lead to unwanted pregnancies.