Realizing Children's Rights in Mauritius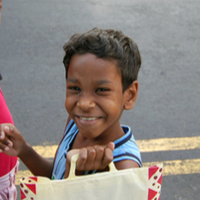 Despite the fact that Mauritius is an economically developed country, poverty persists. Combined with poverty, children markedly suffer from discrimination, living in the streets, lack of schooling, and sexual exploitation. Although the government has provided considerable support for children's rights in recent years, some human rights violations are still too frequent.

Population: 1.27 million
Pop. ages 0-14: 19.4 %
Life expectancy: 74.5 years
Under-5 mortality rate: 16 ‰
Mauritius at a Glance
The Republic of Mauritius is an island country located in the Indian Ocean. It is neighboring Madagascar and is a fairly small country with a population of approximately 1.27 million people. The distribution of this population in urban and rural areas is quite similar with 40.8 percent living in urban and 59.2 percent living in rural areas (2018).
The young population, between the ages of 0 to 14, accounts for 19.4 percent of the total population which is on the lower side for countries in similar geographies (Ministry of Finance and Economic Development, 2020). With World War II, struggles with malaria, and governmental programs, Mauritius's population and fertility rates have fluctuated over the years. However, currently, to fit the country's limited resources and small size, the fertility rate has been kept lower than nearby countries in southern Africa.
Mauritius, in today's world, is considered an upper-middle-income country with one of the fastest growing economies in Sub-Saharan Africa (with a per capita income of USD 7,500). It gained independence in 1968 and became a republic in 1992. Currently, its economy is largely outward focused and relies on agro-industry, tourism, and exports (Kasseeah, 2020).
Despite the fact that Mauritius is an economically developed country, poverty persists. The economic growth mainly benefitted the upper class, but it also helped decrease poverty from 8.3 to 7.9 percent from the year 2007 to 2012 (World Bank, 2019). Severe poverty, although rare, affects a minority of households mainly in rural areas. Some families, especially those from the Creole community, continue to live in extreme poverty. These families live mostly without electricity or running water and cannot offer decent meals for their children. These conditions are not conducive for good child development.
Poverty has implications for children who markedly suffer discrimination, lack of schooling, and sexual exploitation. As a result, certain children throughout the country are unable to enjoy all of the rights proclaimed by the International Convention of Children's Rights. However, improvements are being made by the government and non-governmental organizations to ameliorate these standards which will have positive implications on the children of Mauritius over time.
Status of Children Rights[1]
With changes in the government in recent years, Mauritius has begun to focus more on the status of children's rights in the country. Having already ratified the Convention in 1990 with the first two of the optional protocols, the country started working on the better application of these protocols and the addition of extra protocols to increase the standards of children's rights. The implemented Child Protection Act mostly aimed to help children vulnerable to violence and was followed by a monitoring committee being established to address and follow through with these issues (Koonjoo-Shah, 2020).
In efforts to introduce new legislation, the Committee on the Rights of the Child also finalized and adopted "The Children's Bill" which brought all legislation about children's rights under the same text and allowed for better implementation. This has a more modern and comprehensive legislative framework when compared with the Child Protection Act already in place. It also helps give better effect to the African Charter on the Rights and Welfare of the Child and the UN Convention on the Rights of the Child (OHCHR, 2015).
Currently in Mauritius, many problems concerning children's rights persist ranging from discrimination against children with disabilities to the sexual exploitation of children. There are gaps and insufficiencies in policy frameworks, implementation of programs, and mindset that must be improved to correctly address the needs of the children in Mauritius and provide them an opportunity to benefit from all of their rights.
Addressing the Needs of Children
Right to Health
The Republic of Mauritius has a well-developed healthcare system for the most part. The average life expectancy of 74.5 years is also a sign of this. A positive side of Mauritius's healthcare system is that all public healthcare services are free for its citizens. For treatments outside of Mauritius, the government still provides some assistance.
Although healthcare is mainly accessible, the organization within the healthcare system is not prime. Additionally, despite many advances made in regard to birth and postnatal care, there is a relatively high rate of infant mortality (14.5 ‰) (World Bank, 2019). This is partly due to the remoteness of some families who do not have direct access to health services. Child and maternal malnutrition is also a factor in this mortality rate. The severe poverty of some families prevents adequate nutrition and even the ability to provide basic food requirements for their children (Zulu, 2006).
In terms of access to drinkable and sanitary water sources, it is said that all of the population of Mauritius has access to water. 99.6 percent of the population have access to piped potable water within their premises and 85 percent have it inside of their houses (2000 Housing and Population Census survey (CSO)). It is still important to note that some families do have problems while accessing these water sources.
Right to Non-Discrimination
Discrimination cases are widespread in Mauritius especially towards children with disabilities, ones that have been affected by HIV/AIDS, street children, and children from the Creole community. Disabled children are also one of the main victims of discrimination. Rejected and sometimes abandoned by their families, they are often excluded from school. The Mauritian Constitution also does not protect against discrimination based on disability.
The government has set up the Equal Opportunities Commission (EOC) and Truth and Justice Commissions (TJC) to cultivate a better environment for and understanding of multiculturalism especially towards the Creole community who have been a minority. Although a good step to fighting discrimination, these have received criticism for solely having a symbolic function rather than creating improvements (Lallmahmomed-Aumeerally, 2014).
Right to Education
Education in Mauritius is free for all children until they reach the tertiary level. It is mandatory for everyone to get an education until secondary level and thus has a relatively high enrollment rate (97 percent in 2019) (UNESCO, 2019). Although education is aimed to be inclusive for every child to get the full benefits, this fails as there are issues when children with disabilities want to attend. Indeed, it is worrying to see the reluctance of schools to admit these children for fear that they would slow the pace of learning.
Additionally, not all families have the opportunity to send their children to school particularly due to the lack of accessibility of schools, most of which are located in urban areas. Also, some children, mostly without families, live on the street and quickly find themselves out of school because they must work to support themselves.
Risk Factors → Country-Specific Challenges
Street Children
Mauritius has a large population of street children who are driven to the streets generally because of poor family relationships and poverty. Most of them are aged 11 to 16 years old, do not go to school, and have worked since the age of 13. These children are left to fend for themselves and become easy prey for those of ill intentions (Ndeboc, 2012). The living conditions of these children are desperate, exposing them to all the dangers of the streets which render them helpless victims of a host of abuses, including violence, prostitution, and drug addiction, and exploitative labor.
A key problem specifically affecting homeless children is drug addiction. Among the young living on the streets, drug abuse plays an important role, and it is usually caused by the influence of poverty. This consumption can have disastrous consequences on the lives and health of children. In addition, the use of syringes promotes the spread of HIV/AIDS among children.
Sexual Exploitation
In Mauritius, despite numerous measures taken by the State, the majority of children still fall victim to sexual exploitation, especially girls. In 2012, it was claimed that Mauritius was one of the ten major countries for sex tourism and a major destination for traveling child sex offenders throughout Africa (Slate Africa). The main risk factors leading to this are high numbers of street children, drug abuse, lack of information/education on this, and stigma.
Unfortunately, most are driven to prostitution by friends and family while some are driven by businessmen or taxi drivers. Taxi drivers are in fact intermediaries offering not only transport facilities but also negotiate arrangements between prostitutes and those who hire them. Additionally, almost all of these cases are left without being solved which is a grave issue in itself.
Child Abuse
Mauritian society has become accustomed to corporal punishment and child abuse. It is very prevalent across families, schools, penal and support institutions. In the year 2018 alone, approximately 4,200 cases of child abuse have been registered ranging from emotional to sexual abuse (Child Developmental Unit, 2019). The most common causes of child abuse in Mauritius are poor socio-economic status, conflicts in custody, drug abuse, and unstable households. Although the government takes measures to eliminate all forms of violence against children, it has not yet made arrangements that would allow for the successful rehabilitation of minors who are victims.
Criminal Responsibility and Juvenile Justice System
In Mauritius, there is not a clear minimum age of criminal responsibility and legal framework for the implementation of law regarding children, which is worrying. Mauritius's domestic laws do not have the ratified international child rights treaties automatically integrated into them which causes many problems regarding the relations of children and the law. Instead of this, many provisions of the UNCRC are distributed across the Mauritian legislature which makes it very hard to refer to and apply correct legislations consistently (Boodhun, 2014). These legislations and procedures must be standardized to best fit the needs of and safeguard children, young offenders, and minors.
Written by Yagmur Ozturk
Last updated on February 8, 2021
References:
Mauritius (MUS) – Demographics, health & infant mortality. (2020, February 06). Retrieved from Unicef.
Bowman, L. W. (2021, February 12). Mauritius. Retrieved from Britannica.
Index. (n.d.). Retrieved from Statistics Mauritius.
Mauritius demographics PROFILE. (n.d.). Retrieved February 18, 2021, from Index Mundi.
Kasseeah, H. (2020). How Mauritius' outward-focused economy survived previous shocks. Dallas Sun.
World Bank. (2019). Poverty & Equity Brief Mauritius. Retrieved from World Bank.
Mauritius at a glance. (n.d.). Retrieved from Moore Mauritius.
OHCHR. (2015). Committee on the rights of the Child reviews report of Mauritius. Retrieved from OHCHR.
Mauritius Assembly. (2020). THE CHILDREN'S BILL Explanatory Memorandum. Retrieved from Mauritius Assembly.
UN. (2004). FRESHWATER COUNTRY PROFILE MAURITIUS Retrieved from the UN.
Zulu, P. M. (n.d.). (2006). EXCLUDED AND INVISIBLE CHILDREN IN AFRICA. Retrieved from Pass.va
Lallmahomed-Aumeerally, N. (2015). Minority rights and anti-discrimination policy in MAURITIUS – the case OF 'malaise Creole'. International Journal of Cultural Policy, 23(4), 446-463. doi:10.1080/10286632.2015.1069823
Mauritius secondary school ENROLLMENT – DATA, chart. (n.d.). Retrieved from the Global Economy.
Ndeboc, P., Hosenally, M., & Ferhat, I. (2012). STUDY ON STREET CHILDREN IN MAURITIUS. Retrieved from Mauritius Family Planning and Welfare Association.
Sexual Exploitation of Children in Mauritius Submission. (2018). The Universal Periodic Review of the Human Rights Situation in Mauritius. Retrieved from ECPAT International.
Boodhun, K. (2014). A Critical Analysis of the Treatment of Juvenile Offenders in the Mauritian Criminal Justice System. The Third International Conference on Global Business, Economics, Finance and Social Sciences. Retrieved from Global Business Research.
---
[1] This article by no means purports to give a full or representative account of children's rights in Mauritius; indeed, one of the many challenges is the scant updated information on Mauritian children, some of which are unreliable, not representative, outdated, or simply non-existent.