Children of Niger
Realizing Children's Rights in Niger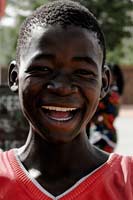 A link between North Africa and sub-Saharan Africa, Niger (also called the Republic of Niger) is a vast and arid country. There, living conditions, particularly those of children, are very difficult. Thus, the Committee on the Rights of the Child has stated that it is extremely concerned and, as a result, has called on the country to take the necessary measures to permit children from Niger to fully enjoy their rights.
Realization of Children's Rights Index :
4,61 / 10
Black level : Very serious situation
Population: 16,9 million
Pop. ages 0-14: 50,1 %
Life expectancy: 58,4 years
Under-5 mortality rate: 57 ‰
Main problems faced by children in Niger:
Poverty, which affects the great majority of Nigeriens, has serious repercussions for children and directly affects their access to:  a healthy diet, financial resources, health services, an education, etc.
To subsidize their needs, children, notably those living on the streets, devote themselves to taking low paying jobs, thereby privileging work over school.
Owing to the extreme poverty which afflicts Niger, minors devote often end up as deliquents as well as involved in prostitution. The latter practice essentially concerns girls. Many young girls are forced to sell their bodies in order to support their needs. In most cases, they do not have recourse to contraceptives, because such things are viewed by Nigerien society as an invitation to debauchery. Thus, unwanted pregnancies have become frequent and serve to increase the number of infanticides.
Niger has taken steps to resolve the problem. It has, for example, outlined a plan of action which stresses the importance of support, development and protection, and in which conscious-raising sessions play a prominent role. However, the murder rate remains disturbingly high.
Malnutrition remains a serious problem throughout Niger's rural regions and in its urban zones. Families simply do not have the means to obtain suitable nourishment. The lack of sufficient nourishment leads to dietary deficiencies and growth problems. Nigerien children effectively suffer from micro-nutritional deficiencies and from disorders stemming from a lack of iodine. These nutritional deficiencies strongly aggravate the infant mortality rate which is already extremely high, notably on account of the strong prevalence of HIV/AIDS.
Waterborne diseases likewise remain a fundamental problem. In effect, owing to the scarcity of drinkable water and an inadequate water purification system, a great many Nigerien children routinely suffer from diarrhea. And more often than not, proper medical treatment is difficult to come by, owing to the government's failure to provide the financial resources needed to recruit personnel, buy equipment, improve services, etc.
Furthermore, with regard to vaccinations, great disparities exist:  children in rural regions receive vaccines less frequently than do those living in urban areas.  Moreover, due to a lack of information pertaining to the utility of vaccines, a large percentage of children do not benefit from them; this remains evidently very problematic.
The registering of births is obligatory in Niger.  However, despite campaigns aimed at raising public awareness, the population in rural regions is unaware that failure to register births with the appropriate authorities is subject to a fine. Furthermore, these communities are unaware of how important it is to have official evidence of identification.
In effect, children who lack the appropriate official papers, are not recognized as members of society and cannot exercise their rights. Consequently, they do not exist in the eyes of society. In addition, children who are not registered, are not protected from abuse, be it forced labour, drug-trafficking, child marriage, prostitution or other forms of sex-trade, etc.
It is thus imperative that the government of Niger actively work to make funds available for campaigns aimed at raising awareness.
Although corporal punishment is forbidden within educational establishments, it persists at the heart of the family. In effect, this practice remains current:  children are submitted to different forms of violence and neglect. Parents often use whatever object lies in reach to punish their children.
Denunciation of physical violence towards children is perceived to be an unwarranted intrusion into the private lives of families—many of which take the view that corporal punishment permits them to discipline their children.
Education is a national priority in Niger; nevertheless, it leaves much to be desired. Two thirds of children are uneducated; and girls, for cultural reasons, often attend school even less than boys.
The quality of education is not good, since the system lacks both context and fixed objectives. Plus, infrastructure is poor:  more often than not, there is an absence of sanitary facilities, a lack of ventilation and light, etc.
Finally, the population does not understand how important education is. Poor communities prefer that their children find jobs rather than go to school. Worse still, the government would like to privatize the school system—which means that parents will not always be able to afford to finance their children's schooling.
Certain regions of Niger, great disparities persist, notably at the level of access to education and healthcare.
In urban areas, the education rate is higher than it is in rural and nomadic regions. Furthermore, boys attend school than girls. This is because too many families are reticent about sending their daughters to school. The general feeling is that education does not contribute to the positive development of girls, but rather to their depravity.
Marriage involving young girls is still practiced in Niger.  A third of all girls are married before they turn fifteen.
Child marriage has a negative effect upon their health, their development and their ability to fully exercise their rights. Being married so early in life hampers their ability to socially interact with others, since they are more or less forced to abandon their education. Furthermore, they run the risk of premature births which can have a dangerous effect on both their own health and the health of their infant.
The female genital mutilation is still practiced in certain regions of Niger. The precariousness and lack of hygiene with which these excisions are practiced often lead to serious consequences for the health of young girls. Infections, hemorrhages and other problems are often a direct result of this particular operation.
Owing to extreme poverty, families are often obliged to make their children work. They are generally find employment in the agricultural domain—which is the predominant labor sector in Niger.
Uneducated, these children grow up in very miserable conditions:  long working hours, low wages, no food. Furthermore, they run the risk of becoming the victims of prostitution, discrimination, abuse, etc.
Children in Niger are rarely able to express their personal opinions and participate in the decision-making process either at home or in school, or elsewhere for that matter. The right to free expression is perceived by Nigerien communities as an incitement to revolt against one's parents. It also calls into question the traditional values of Nigeriens; and that poses a problem for many people.