Realizing Children's Rights in Zambia
With children making up almost 50 per cent of the population, Zambia struggles to meet the needs of its childhood-aged population. Subjected to severe poverty, Zambian children are faced with challenges such as malnutrition, imprisonment, educational disadvantages, child marriage, and hard labour.
Population: 17,4 million
Pop. ages 0-14: 45.95%
Life expectancy: 62 years
Under-5 mortality rate: 59.3 ‰
Zambia at a Glance
Zambia is a landlocked country in Southern-Central Africa. Its neighbours are Tanzania, Malawi, Zimbabwe, and Botswana. The population of the country is approximately 17.4 million and is continuously increasing at a fast pace. The population is mostly concentrated in Lusaka, its capital, and the Copperbelt Province. The young population, between the ages of 0 to 14, accounts for 45.95 percent of the total population. It is also home to a wide variety of ethnic groups.
Zambia is considered a stable country in terms of politics with successful democratic elections held every five years. As Africa's second-largest copper producer, Zambia achieved middle-income country status in 2011 with great economic growth in the years 2004-2014. However, the growth only benefitted a small portion of the population and had a limited impact on poverty. Still today, poverty and the problems it causes pose a significant threat to a greater segment of the population. Poverty results in problems in sanitation, access to water, malnutrition, and land tenure which could be detrimental considering that agriculture is the livelihood of almost 90 percent of the Zambian population.
These problems have had bearing on the children of Zambia. As a result, many children throughout the country are unable to enjoy all of the rights proclaimed by the International Convention of Children's Rights. There have been improvements regarding child rights and opportunities provided to them; however, despite such progress, many Zambian children face significant hurdles in securing even the basic standards of survival and development. Thus, the full realization of children's rights is still going to demand time and effort.
Status of Children Rights
Children represent a relatively large percentage of the Zambian population: in 2018 45.95 percent of the population were between the ages of 0 and 14. The median age in Zambia is only 16.8 years of age which is one of the lowest in the world.
In Zambia, 60 percent of the population lives below the poverty line and 42 percent are classified as extremely poor. Generally, poverty is more prevalent in rural regions in Zambia where the children population is highest. Rampant poverty results in many parents preventing their children from attending school in order that they may work full time to contribute financially towards the family's support. It forms a formidable barrier to accessing adequate nutrition, proper health care, rudimentary education and decent housing, and denies leisure almost altogether.
Over the years, Zambia has signed two Children Rights declarations: The United Nations Convention on the Rights of the Child, ratified it in 1991, and the African Charter on the Rights and Welfare of the Child. Since then, there have been several developments concerning children's rights through both legal and administrative changes. However, the legal and policy frameworks for children and investments in education and child protection remain insufficient. In addition, investment in public resources in the social sectors benefiting children is decreasing. Although the Convention was ratified early, it is, still today, only partially adopted and incorporated into domestic law.
Nowadays, awareness of children's rights in Zambia is increasing; youth activists and current organizations are working in support of children, are protesting and ameliorating health issues, gender disparities concerning children, and the status of child marriages. If managed correctly, the government, civil society, and international organizations have the potential to better the implementation of children's rights and endorse youth empowerment. Nevertheless, public awareness of the Zambian people regarding children's rights has been increasing as a result of initiatives made by advocates.
Child-Sensitive Social Protection
Social protection is essential for preventing and reducing poverty for children and families, for addressing inequalities, and for realizing children's rights. In addition, it is essential that social protection programs respond to children's vulnerabilities by optimizing positive effects on children and minimizing potential adverse consequences. Given its positive contribution to reducing poverty, vulnerability, and risk, social protection has gained interest in recent years.
If ​child-sensitive social protection is put into action correctly, it has the opportunity to address chronic poverty, social exclusion, and external shocks which can irreversibly affect children. Social protection programs are now involved in the Zambian government's poverty mitigation strategy, along with social welfare programs and human resources development, which include a focus on children's health and nutrition.
The Social Cash Transfer Scheme (SCT), which was established by UNICEF and partners, is aiming to increase budget allocations for the SCT programme in Zambia. These efforts contributed to the budget increase for the programme from US$30.2 million in 2016 to US$55.2 million per year in 2017. Recognising that it is politically more palatable, such focus brings significant benefits to children and can pave the way to a child focused grant, a benefit that makes social protection more child-sensitive.
For example, the Zambia Child Grant Programme – an unconditional cash transfer targeted to rural families with children under age five – is proving to have a positive impact on nutritional inputs and overall health in children.
Although some policies of social protection in Zambia are becoming more child-sensitive, it is still inadequate. It is important that policies, legislation, and regulations effectively consider the viewpoint of children, youth, and their caregivers- so that children's rights are met more holistically.
Addressing the Needs of Children
Zambia's national sanitary indicators are very low. Average life expectancy is 62 years, and the infant mortality rate is at a proportionately deplorable level as well with 59.3 deaths per 1,000 live births.
The lack of infrastructure, material and trained personnel are the principal causes of the state of Zambia's health system. Thousands of children lack access to basic medical care.
Zambia is also experiencing a generalized HIV/AIDS epidemic that is deteriorating the status of children and their care. The pandemic resulted in increased number of orphans, with an estimated 600,000 orphans in the country.
Another health hazard, increased levels of lead poisoning in the country has a detrimental effect on children who are already highly vulnerable. Lead can cause stunted growth, anaemia, learning difficulties, organ damage, coma and convulsions, and even death. Thus, it is of uttermost importance to eradicate this issue as soon as possible.
In Zambia, there are many "invisible" children, children who are not recognized by the Zambian law because their births are not recorded. Indeed, less than half of all births are officially declared to the authorities, primarily due to difficulty of access to public identity registration services.
The deficiency of regulations on births and a scarcity of information about the need to register children are the biggest obstacles towards realization of a complete birth registry. There is a great necessity to inform the general public about the effects of this problem, such as the absence of official identity, nationality, or even the failure to respect the rights and practical needs of children.
Birth registration is a fundamental right as it provides the child a name, parentage, nationality, and age. It also represents a proof of identity, a sign of existence in the eyes of society, granting them automatic protection from the government against trafficking and forced labour.
The education system in Zambia needs to make much more progress to satisfy the needs of its children as a whole, and in the last decade it has made some efforts to accomplish that. Enrolments in compulsory primary education doubled from 2000 reaching 3.3 million in 2017. Gender disparities between primary school children decreased enabling girls to enrol at same numbers as boys.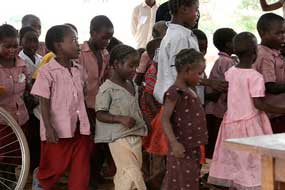 However, after primary school, there are barriers students and their families face, such as additional fees, long distances, sanitation, and many more. Additionally, the quality and adequacy of education still remains as a problem. School buildings are dilapidated, overcrowded and unsafe; sanitation is often absent; study materials are inadequate; the instructional systems are antiquated; and the teachers are not always qualified. What's more, cases of corporal punishment, mistreatment and even sexual abuse are causes for serious concern.
Risk Factors → Country-specific challenges
Malnutrition prevents millions of Zambia's children from reaching their potential. Although they do not suffer immense hunger, the diet of most children lacks basic nutritional elements essential for a healthy life. These nutritional deficiencies negatively affect their immune systems and render them extremely vulnerable to illnesses.
In 2016, more than 40% of Zambian children that were under the age of five were stunted and 15% were underweight mainly due to malnutrition thus setting the stage for a lifelong of substandard health.
Access to clean and abundant water is a challenging pursuit in Zambia. 61 per cent of the population use basic drinking water services, being more prevalent in urban areas. To improve this condition, in 2011, Parliament passed a new water resources management law, which however failed to move the needle on the problem.
Child marriage is prevalent in Zambia with almost 31 percent of girls married before the age of 18. The legal age of marriage in Zambia is 16 and so the betrothal of barely pubescent girls is not uncommon. Though nominally illegal, these unions are largely tolerated and some country-specific drivers of this are traditional customs, gender norms, family practices, and levels of education.
This practice carries serious negative consequences in the emotional and psychological development of these young girls, who find themselves forced prematurely into traumatic sexual relations, not always consensual, and must transition abruptly from childhood to adulthood without the preparative phase of adolescence.
Street Children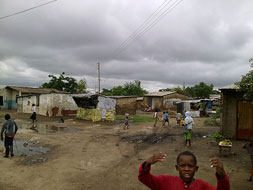 The number of children living on the streets of Zambia's cities are very high. It's also estimated that one in five Zambian children do not live with their parents. The life conditions of these children are desperate, exposing them to all the dangers of the streets, which render them helpless victims of a host of abuses, including violence, trafficking, prostitution, alcoholism and drug addiction and exploitative labour.
The Zambian government has succeeded in assisting some of them through the provision of lodging houses and training programs. Additionally there are programs such as the Anglican Street Children Programme which brings children back into the education system and away from child labour and a life on the streets.
Child Labour
A large portion of Zambian children are engaged in an economic activity. A 2017 report of the United States' Bureau of International Labor Affairs indicates that Zambia's worst forms of child labour is in agriculture, industry and services. The high number of children who are living on the streets or are not continuing their education do so in order to bring income to cover their essential needs.
These children undergo a miserable existence: long working hours in accident-prone conditions, subsistence wages, dietary shortcomings, lack of shelter, etc. Moreover, besides exposure to the elements and disease, they are chronically vulnerable to dangers such as prostitution, discrimination, mistreatment, trafficking and substance abuse.
Child Imprisonment
Children in Zambia's prison population is prevalent. Many of them are of a tender age, even below the age of four when with their mothers. The survival of these children is placed in serious jeopardy, especially because prisons do not treat and protect them as children by placing them with adult inmates. Thus, at the prevailing levels of nutrition, health care and space they are accorded, combined with an unsanitary environment, these children are exposed to innumerable risks, mainly abuse with tragic – and often fatal – consequences.
When child prisoners are not separated from adult detainees, they are routinely tormented and victimized by the dreadful violence and depravity reigning in these overcrowded facilities.
Written by Yagmur Ozturk
Last updated on 28 March 2020
For more information:
Action for Children, Zambia, non-governmental organization which helps bring street children back to family life within their community.
Power of Love Foundation, organization which provides food, medicines, and a package of life saving health care services to many HIV+ children, and training in HIV to families in Zambia.
References:
CDC Global Health – Zambia. (2019, June 17).
Child Rights Barometer: Measuring Government Efforts to Protect Girls and Boys in Zambia. (n.d.).
Ministry of Community Development. (n.d.). National Social Protection Policy: Reducing poverty, inequality and vulnerability.
Save the Children. (n.d.). Child Rights Governance.
The Impact of Lead Contamination on Children's Rights in Kabwe, Zambia. (2019, September 13).
UNICEF. (n.d.). Cash Transfers and Child Nutrition in Zambia.
UNICEF. (n.d.). Child Protection.
USAID. (2019, June 13). Health: Zambia.
Zambia – Demographics Profile. (n.d.).
Zambia: Lead poisoning having disastrous effects on children's heath; HRW report. (2019, September 18).