Children of Guinea-Bissau
Realizing Children's Rights in Guinea-Bissau
Despite its resources, this small country is one of the poorest and least developed in the world. Development opportunities are limited because of past violence, political instability and obsolete infrastructure. Unfortunately, children are directly affected by this situation.
Main problems faced by children in Guinea-Bissau:
Poverty and malnutrition
Two out of three persons in Guinea-Bissau live in extreme poverty. Approximately 19% of children are affected by malnutrition. The country's economic, social and political problems have put the population and children in a difficult situation, and the UN Convention on the Rights of the Child is just a formality.
Access to health services is limited as services are inadequate, of poor quality and expensive.
Infant mortality rates are rising and today, nearly 13.8% of children die before the age of one year and 22.3% before 5 years. These include deaths due to malnutrition, inadequate immunisation and various diseases such as malaria, tuberculosis, malaria, cholera, etc.
The hygiene and sanitation situation is worrying, since only 11.4% of the population has access to sanitation facilities for the disposal of excrements. Access to drinking water has not improved since 2000, including schools.
Poverty and lack of health education are responsible for this.
The HIV/AIDS infection rate is rising; this affects the rights of children, who rarely have access to treatment, are discriminated against or are orphaned. Only 10% of HIV-positive children have access to antiretroviral treatment.
Nearly 8% of pregnant women are infected, and the transmission rate is 2.6%, which suggests that the situation is deteriorating.
Lack of knowledge about the disease, infrequent condom use, lack of access to screening, sexual activity at a young age and the lack of treatment centres for HIV/AIDS all contribute to an uncertain future for children.
Early marriages and forced marriages
The practice of marrying off young girls from the age of 13 years is widespread in Guinea-Bissau. In 2010, nearly 22% of girls were married off before the age of 18, and 7% at 15 years.
In most cases, the girls are forced into marriage under the threat of violence or death if they refuse to marry men who are sometimes much older than them.
These threats were carried out when some young girls fled during the ceremony. People who helped them flee suffered the same fate, including members of the priesthood, which has further discouraged people from fighting such practices.
Female genital mutilation is deeply rooted in Guinean culture, especially in Fula and Mandinka. In 2010, 50% of girls between 6 and 14 years were circumcised when young or on attaining puberty.
Environment
Guinea-Bissau has strong environmental resources which are unfortunately in the process of degradation.
More than 33% of the country consists of farmland and more than 50% is under forest cover.
The Bijagos Archipelago is a UNESCO World Heritage site, and marine biodiversity along the coasts is exceptional.
These assets are threatened by deforestation, slash and burn agriculture, regular bush fires, large-scale agricultural clearing, the clandestine production of coal and firewood and industrial fishing.
Soil fertility is thereby reduced, coastlines degraded and some species are faced with extinction.
The future and survival of children in Guinea-Bissau are threatened by the impoverishment of this environmental heritage and the destruction of the living environment.
Child trafficking into Senegal is especially active and sometimes occurs with the complicity of the local population, NGOs, truck drivers and authorities. Despite measures taken by the government, the number of children trafficked is increasing each year.
Transport conditions are often poor, sometimes involving travel over long distances without food or water. The children are used as labour in the cotton fields in the agricultural areas of southern Senegal, or to beg for marabouts in the streets of Dakar.
Child trafficking is not punished. Instead it is often justified as a means of allowing children to earn money for work they would normally have done without pay. A belief, now popular, which indirectly justifies the traffic, is that begging teaches humility and is necessary for every Muslim.
Exploitation for commercial purposes
Children are often forced to do the same work as adults under very difficult and dangerous conditions. In 2010 for example, 60% of girls were working in Guinea Bissau, usually as domestics, or in agriculture and in small business. It is likely that these children had no access to education, adequate health protection or acceptable work conditions.
The large number of children living on the streets, especially in urban areas, and the lack of assistance to them, are deplorable.
Children with disabilities, especially children with trisomy 21, are victims of discrimination and acts of violence, including murder.
There is no law prohibiting such discrimination or any system of protection for disabled children.
Health services, education and public infrastructure in general are not equipped to deal with disabled children.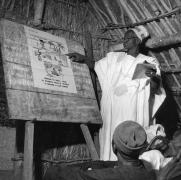 In Guinea-Bissau, about half of the children are not in school, despite the increase in enrolment in recent years. Literacy rates remain low, especially among girls, and in rural areas.
Education provided is generally of poor quality due to the lack of training among teachers and of school facilities.
Few schools offer more than 4 years of school-level education.
Girls are particularly affected by the lack of schooling. They often leave school earlier and are on average are less likely to attend school. In 2006, for example, there were 83 girls for 100 boys at the primary level, and only 44 at the secondary level. Furthermore, many girls abandoned school to undergo traditional rites and ceremonies of circumcision.
In Guinea, and particularly within the extended family, sexual abuse of children is common, and corporal punishment and violence are widespread.
Violence is often used as a means of settling disputes. In 2010, violence was used to discipline children in 82% of cases.
Such physical and psychological abuse has a negative impact on children's development.
Abuse is rarely reported or prosecuted, and awareness campaigns are rare.
Children affected by armed conflict
Children were participants in the recent violence that has been raging along the southern border with Senegal. These events have caused many excesses and the displacement of about 6,000 persons, including children, who were deprived of access to basic services and reinsertion assistance.
Many children are still suffering from the damage caused by previous domestic armed conflicts, such as the civil war in 1998. Remnants of explosives, such as landmines that had been used, continue to maim.
Fortunately, a demining operation that is expected to be terminated in 2012, has been launched.
The lack of qualified staff and specialised courts to deal with cases involving juveniles in conflict with the law is disgraceful. Customary law is often applied in such proceedings, although
this is not in line with the Convention and children's rights.
Due to the absence of pedagogical measures, child detention is practiced regularly. Children are detained in deplorable conditions, being rarely separated from adults.
Finally, the lack of measures for crime prevention and rehabilitation of juvenile offenders should be criticised.
Laws, policy decisions and practice do not sufficiently take into account the interests of the child. Families and professionals working with children lack awareness about the best interests of children.
All children are not registered at birth. Even in 2010, only 24% of births were recorded.
The government has tried to promote registration by introducing a fine on parents who fail to register their child within a defined period.
Unfortunately, this has led families living in geographically remote areas not to register at all.