Despite living in a world where there is a constant desire and drive to identify and understand everything, something as basic and inherent as menstruation is still a topic shrouded with misinformation, taboo, and shame. While menstruation is a way of life for millions of girls and women around the world, there are still an alarming number of them who, even to this day, lack access to menstrual hygiene products, which in turn directly impacts their physical, and more specifically, reproductive and mental health.
What is period poverty?
Period poverty has to do with a lack of access to menstrual products, hygiene, education, hygiene facilities, waste management or a combination of these, and affects an estimated number of 500 million people worldwide (Geng, 2021). Menstruation is a key component in the lives of women, making it a phenomenon impossible to ignore. On average, in her lifetime, a woman will menstruate for about 7 years of her life (UNICEF, 2018).
There are multiple dimensions and points-of-view when considering menstruation and the relevance it holds in society. The spectrum of discourse can range from a purely biological standpoint all the way to a political one. While each hold value and importance, there is one thing that every girl and woman needs, and that is access to a clean environment where their health is not compromised due to barriers that come in between them and a natural process of their body.
Although this seems like a straightforward premise which is accessible to all, the reality is one that is alarmingly contrasting. Globally, 2.3 billion people still lack access to basic sanitation services and in the least developed countries, only 27% of the population has a handwashing facility with water and soap at home thus leading to incredible inconveniences and difficulty when it comes to managing periods for women and adolescent girls (UNICEF, 2018).
What are some of the outcomes of period poverty?
It maintains a steady cycle of social stigma
Despite being a normal biological process, without any dangerous properties, history has shown a long-drawn pattern where several communities thought that the presence of menstruating women could cause harm to livestock, plants and food. Western scientists in the 1930s even hypothesized that during menstruation, women's bodies released a sort of poison (UNFPA, 2021).
Stigma associating menstruation with uncleanliness and disgust is a significant contributor to the fact that public health crisis has yet to be given its due address. The concept of shame being so closely connected to menstruation leads to a lack of open conversation about it which in turn prevents dialogues in regard to menstrual products (Ashley Rapp, 2020).
A study by the International Women's Health Coalition found that there exists approximately 5,000 slang words in reference to menstruation in 10 different languages (Litman, 2018). The fact that there is a need to find alternative ways to refer to menstruation is a direct show of the amount of stigma the topic carries.
It is as a result of the taboos around menstruation that there is a significant lack of health education resources available, and it is lack of knowledge about the menstrual cycle that strengthens myths and leads to ostracization and humiliation amongst women and girls (Litman, 2018). In rural Ghana, they are prohibited from cooking food or entering a house with a man (Litman, 2018).
The Maple Women's Psychological Counseling Center in Beijing has published a study which has stated that nearly 70% of its respondents has admitted that they have tried to hide sanitary pads they carry around while more than 61% have said they've used euphemisms in reference to their period (Tiffany May, 2020). In Ethiopia, it is common for the people of the Benishangul-Gumuz region to believe that a woman's blood is cursed and that, during her cycle, she is expected to leave her home. Moreover, she is sometimes even handed her food with a stick so that touching her is avoided (Negash, 2017).
In India, menstruation is a cause for discrimination and oftentimes is the reason cited for which girls and women are forbidden to attend social and religious events and kept out of kitchens (BBC, 2020). According to one study, 71% of adolescent girls in India are unaware of menstruation until they get their first period (BBC, 2020). Knowledge sets the foundation for empowerment and not knowing about something as fundamental as this is a testament of the immensity of the problem of social stigma.
Even in countries that have relatively more open conversations about menstruation, advertisements in the media are never an accurate representation of what menstruation looks and feels like, and most often, romanticizes the process. Furthermore, many of them use a blue liquid to show menstrual blood which suggests a point of view that believes that it is disgusting to show menstrual blood on television despite blood being a regular feature in medical dramas and horror movies (Bell, 2017).
A discourse largely pillared by inadequate knowledge, taboos and stigmas also contribute to a cycle of early pregnancy and child marriage as girls and women are not informed well enough about their sexual and reproductive health. As a consequence, they also do not feel empowered enough to makes informed and personal decisions and choices about their own bodies. According to the UNFPA , approximately 7.3 million girls under the age of 18 give birth every single year and, according to UNICEF, in the year 2020, 21% of young women were married before their 18th birthday (WHO, 2020).
It prevents education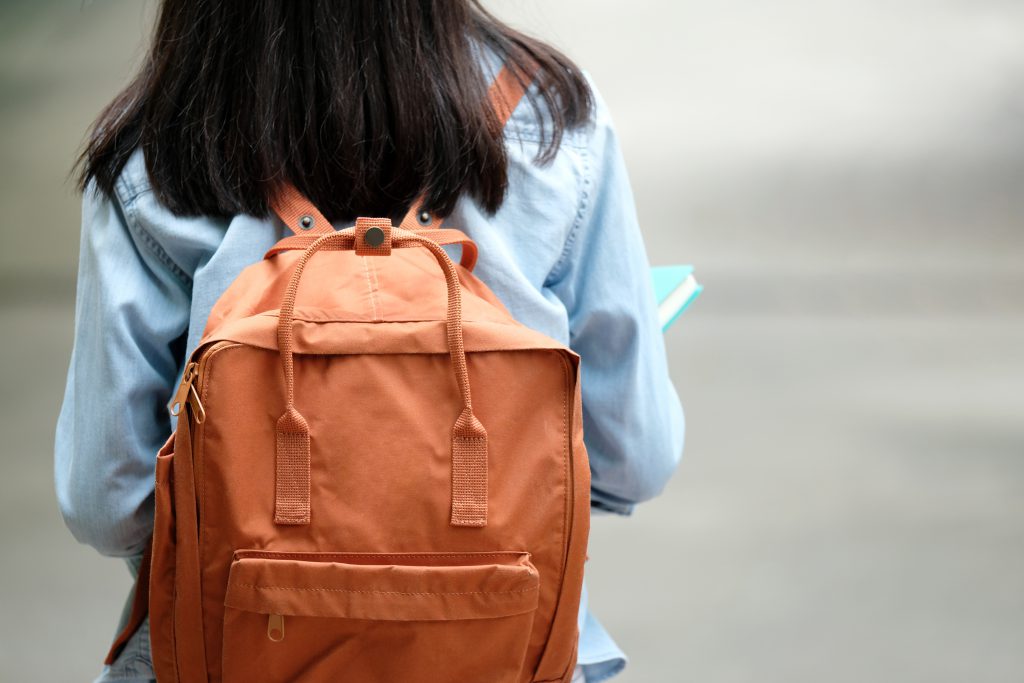 In a world that still largely operates from a patriarchal standpoint, education provides a platform for girls to achieve independence, empowerment and awareness. It creates a foundation upon which dreams can be built and towards which one should constantly work. Anything that disrupts or stops education for a girl has a directly negative impact on her life. The sad reality remains that a significant hurdle on this path that often closes the door to a promising future is period poverty.
A lack of access to menstrual hygiene products is a large attribute to the fact that so many girls are unable to attend school. In Bangladesh, over one-third of girls surveyed have claimed that issues in relation to their menstruation adversely affect their performance in school (World Bank, 2018).
In the Republic of North Macedonia recent study found that 90% of female students in rural areas do not attend school for the duration of their period which typically goes up to 5 days. The most common reasons for this occurrence are inadequate conditions for managing menstrual hygiene in school as well as the high price of products for menstrual hygiene management (WHO, 2018).
In South Africa, up to 7 million girls do not have access or are unable to afford sanitary products. Oftentimes, a choice must be made, and it is one that is absolutely devastating and should not be something any human has to choose between – to buy food or to buy sanitary products. Many choose the former as it holds more importance in terms of priority. This results in them staying at home during their period which is why it is estimated that 30% of South African girls do not attend school while they are menstruating simply because they do not have sanitary products (Mamtaney, 2021).
Out of 1,000 teenage girls questioned across the UK, nearly half has stated that period poverty has prevented them from performing well at school. Out of the 52% who said they miss school as a result of their period, nearly 1 in 10 admitted that this was a direct result of not being able to afford or access sanitary products (Oppenheim, 2019).
In India, close to 23 million girls drop out of school annually after they begin menstruating. The main reasons for this are a lack of clean toilets in school as well as lack of access to sanitary products. Across the country there are millions of families who cannot afford to buy menstrual hygiene products for their women and girls (BBC, 2020).
It causes health implications
Often, most adolescent girls from the least developed countries are not educated about menstruation before experiencing it for themselves, coupled with the fact that sanitary products are often unaffordable. This means that they substitute menstrual products with unhygienic materials such as rags which results in an increased risk of contracting reproductive and urinary tract infections (WHO, 2020). An aftermath of this lack of access is the emotional toll it brings, which leads to poor mental health outcomes such as depression and elevated anxiety (Ashley Rapp, 2020).
Moving forward for the healthier future of all girls and women
Access to proper sanitation and a clean environment is an essential right every human being deserves and when women and girls are menstruating, the need for proper hygiene is crucial. The Joint Monitoring Programme (JMP) report – Progress on household drinking water, sanitation and hygiene 2000 – 2020, clearly states that if current trends persist, by 2030 only 67% of the world's population will have safe sanitation services, leaving 2.8 billion without it.
What's more, only 78% will have access to basic handwashing facilities, leaving 1.9 billion people without that right. It is both sad and alarming to learn that, in 2020, nearly half the world's population did not have access to safely managed sanitation (UNICEF, 2021).
Although there are several organizations and movements that are trying to tackle the weight of period poverty, the fact remains that it is still an issue that needs to be addressed. While there are enormous improvements in every sector of modern society, be it shopping, tech or even food, something as basic as menstruation is still an insurmountable obstacle in the lives of girls and women nowadays. Work has yet to be done, open conversations are yet to be held and the numerous barriers are yet to be broken, so that menstruation becomes a way of life and not something that stifles it.
At Humanium, we work extensively to raise awareness on the importance of both physical and mental health of young girls and women. Most recently, in the effort to ensure a future where access to sanitation and a clean environment is a global reality for all children, and girls in particular, Humanium signed a Joint-Statement to the 46th session of the Human Rights Council on the realization of children's rights to a healthy environment. If you would like to support Humanium in its work of safeguarding the rights of young girls globally, whether it is their right to food, education, protection, health or freedom please consider sponsoring a child, making a donation or becoming a volunteer.
Written by Aditi Partha
Bibliography:
Ashley Rapp, S. K. (2020, February 4). Changing the Cycle: Period Poverty as a Public Health Crisis. Retrieved from School of Public Health, University of Michigan: https://sph.umich.edu/pursuit/2020posts/period-poverty.html, accessed on 28 January 2022.
BBC. (2020, May 28). Why India must battle the shame of period stain. Retrieved from BBC: https://www.bbc.com/news/world-asia-india-52830427, accessed on 28 January 2022.
Bell, J. (2017, September 12). What advertising teaches us about periods. Retrieved from Hello Clue: https://helloclue.com/articles/culture/what-advertising-teaches-us-about-periods, accessed on 28 January 2022.
Geng, C. (2021, September 16). What to know about period poverty. Retrieved from Medical News Today : https://www.medicalnewstoday.com/articles/period-poverty, accessed on 28 January 2022.
Litman, J. (2018, June 5). Menstruation Stigma Must Stop. Period. Retrieved from The Public Health Advocate. Berkeley : https://pha.berkeley.edu/2018/06/05/menstruation-stigma-must-stop-period/, accessed on 28 January 2022.
Mamtaney, S. (2021, June 30). Period Poverty in South Africa. Retrieved from The Borgen Project: https://borgenproject.org/period-poverty-in-south-africa/, accessed on 28 January 2022.
Negash, M. (2017, July 28). Cursed no more – women in western Ethiopia reject childbirth alone in the bush. Retrieved from UNFPA: https://www.unfpa.org/news/cursed-no-more-women-western-ethiopia-reject-childbirth-alone-bush, accessed on 28 January 2022.
Oppenheim, M. (2019, May 21). Average schoolgirl takes three days off each term due to period-related issues, study finds. Retrieved from Independent: https://www.independent.co.uk/news/uk/home-news/period-poverty-girls-school-absent-phs-group-menstrual-a8922246.html, accessed on 28 January 2022.
Tiffany May, A. C. (2020, November 9). 'Stand by Her': In China, a Movement Hands Out Free Sanitary Pads in Schools. Retrieved from The New York Times: https://www.nytimes.com/2020/11/09/world/asia/china-period-shame-universities.html, accessed on 28 January 2022.
UNFPA. (2021, June). Menstruation and human rights – Frequently asked questions. Retrieved from UNFPA: https://www.unfpa.org/menstruationfaq#Taboos%20and%20Myths%20about%20menstuations, accessed on 28 January 2022.
UNICEF. (2018, May 25). FAST FACTS: Nine things you didn't know about menstruation. Retrieved from UNICEF: https://www.unicef.org/press-releases/fast-facts-nine-things-you-didnt-know-about-menstruation#_edn2, accessed on 28 January 2022.
UNICEF. (2021, July 1). Billions of people will lack access to safe water, sanitation and hygiene in 2030 unless progress quadruples – warn WHO, UNICEF. Retrieved from UNICEF: https://www.unicef.org/press-releases/billions-people-will-lack-access-safe-water-sanitation-and-hygiene-2030-unless, accessed on 28 January 2022.
WHO. (2018, November 8). Tackling the taboo of menstrual hygiene in the European Region. Retrieved from WHO: https://www.euro.who.int/en/health-topics/environment-and-health/pages/news/news/2018/11/tackling-the-taboo-of-menstrual-hygiene-in-the-european-region, accessed on 28 January 2022.
WHO. (2020, May 28). Menstrual hygiene and health – a call for dignity, rights and empowerment. Retrieved from WHO: https://www.who.int/pmnch/media/news/2020/menstrual_hygiene_health/en/, accessed on 28 January 2022.
World Bank. (2018, May 25). Menstrual Hygiene Management Enables Women and Girls to Reach Their Full Potential. Retrieved from World Bank : https://www.worldbank.org/en/news/feature/2018/05/25/menstrual-hygiene-management, accessed on 28 January 2022.