The Covid-19 pandemic, coupled with the refugee and economic crisis in Lebanon has led to a staggering increase in child marriages amongst Syrian refugees in the country, where the rate of child marriage has increased four folds since the Syrian conflict began (Monla-Hassan & Yacoubian, 2020). While child marriage is a global issue, there are various country-specific reasons behind the recent increase in child marriage among the Syrian refugees residing in Lebanon.
Some of the most prevalent causes include poverty, gender inequality, insecurity caused by war and displacement, as well as certain harmful societal norms, expectations and religious beliefs (Arab & Sagbakken, 2019). Child marriage has devastating impacts on the children involved, robbing them not only of their childhood but directly threatening their lives, health and basic rights, thus limiting their future prospects and development (Unicef, 2021)
As a Lebanese doctor, having directly witnessed the effects of the war in Syria, the following refugee crisis, and the recent economic collapse in Lebanon, I wanted to further explore the driving causes and effects of child marriage in my home country. The following article summarizes my research, observations on the ground, in addition to conversations I had with those who have seen no other choice than marrying off their daughters at a very young age.
What is child marriage?
Girl child marriage refers to the union, formal or informal, of a girl younger than 18 years old with either another child or an adult. While child marriage exists amongst both boys and girls, it is much less predominant in boys with only one-sixth of child marriages occurring among boys (Unicef, 2021). While the prevalence of child marriage has decreased from one in four girls 10 years ago to almost one in five now, the number is at least doubled in certain third world countries, where 40 % of girls are married before they turn 18 (UNFPA, 2020).
Prior to the Covid-19 pandemic, studies had indicated that around 100 million child-girls were expected to get married within the next 10 years. Recent studies indicate that almost 10 million additional girls are now at an increased risk of being married as a direct consequence of the pandemic (Unicef, 2021)
Child marriage – the devastating end of childhood
Child marriage has devastating effects not only on the lives of the children forced into marriage, but also society in general. Child brides have worse health outcomes and lower life expectancies when compared to unmarried children their age. For instance, married girls are more likely to become pregnant during their teenage years, which leads to an increased risk of complications during pregnancy or childbirth (UNFPA, 2020)
Child marriage also tends to have negative consequences on the children's mental health since child brides are often isolated from their peers, community and family members and are more likely to be victims of domestic violence. In addition, girls who marry before the age of 18 often drop out of school to take care of the household, adding to the precariousness of their situation and hindering their development and future perspectives.
As a result of those negative consequences on the girls' health, education, and development, among many others, child marriages have a significant toll on national economies. (Unicef, 2021). A report by The World Bank stated that child marriage is likely to cost developing countries trillions of dollars by 2030 (Wodon, et al., 2017).
Child marriage in the Lebanese context – the effects of conflict, displacement and poverty
On the face of it, child marriages may not seem as prevalent in Lebanon as in other Middle Eastern countries. However, when one looks closely at the numbers and at the stratification of its prevalence, the picture begins to change.
In a survey conducted by UNICEF in 2015-16, it was found that only 6% of Lebanese women aged between 20 and 24 years were married prior to the age of 18. While the number may not seem as high as in neighboring countries, the prevalence was 12% among Palestinian refugees in Lebanon, 25% among Palestinian refugees from Syria residing in Lebanon, and a staggering 40.5% among Syrian refugees in Lebanon.
The survey concluded that while there was a decrease in child marriage among all women, the prevalence was specifically increasing for Syrian women and Palestinian women from Syria living in Lebanon (LEBANON Country Brief: UNICEF Regional Study on Child Marriage in the Middle East and North Africa, 2017). Looking at the numbers, since both Palestinians and Syrians displaced from Syria have an increase in the prevalence of child marriage, one may hypothesize that the continuous conflict in Syria is a major driver of that increase.
After a decade of civil war, Syria remains the world's largest refugee crisis today with more than 6.6. million people who have been forced to flee their home country since 2011 (UNHCR, 2021). Lebanon is currently hosting 1.5 million Syrian refugees – the highest population-refugee ratio in the world (ECHO, 2021). At the same time, Lebanon has been hit by a series of crises: an economic and financial collapse which has been aggravated by a political crisis, the Covid-19 pandemic and finally the explosion in the port of Beirut on August 4, 2020 (The Worldbank, 2021).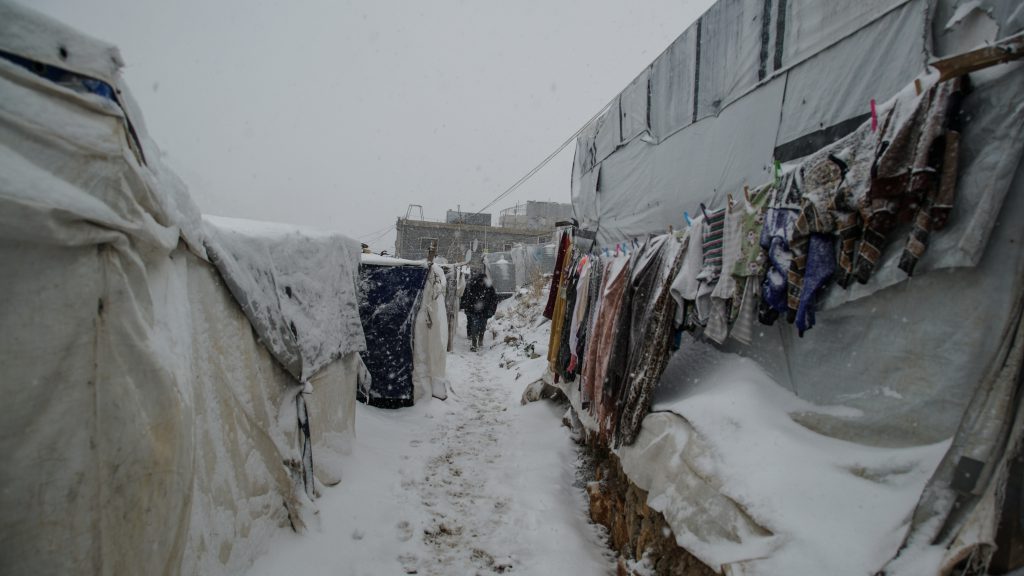 This situation has led, in particular, to a deterioration in the quality of life of the population, especially amongst refugees, with spiral growth in levels of hunger, debt, and health problems subsequently leading to more violence and child labor (UNHCR, 2021). Another side-effect of the deterioration of quality of life is a drastic increase in the number of child marriages.
Early studies prior to the crisis in Syria have shown that only around 13% of Syrian child girls used to undergo child marriage. However, a more recent study conducted in Lebanon in 2016 has shown a staggering increase from 13% to 35% in the prevalence of child marriage among underage Syrian refugee girls (UNFPA; American University of Beirut; SAWA for Development and Aid, 2016).
While these numbers seem shocking, it is important to note that this study was conducted prior to the financial crisis. Hence, one can expect those numbers to be significantly higher due to the recent deterioration of living conditions. Another reason the numbers could be higher than those reported is that many refugees cannot register the weddings of their children, since they themselves lack a valid residency (Arab & Sagbakken, 2019).
"We don't even know if we can afford to eat every day. "

– Driver of the increase of child marriage in Lebanon
The rise in child marriage during conflict and war is not only common in Syria, but is rather typical in other conflicts as well (Women's Refugee Commission, 2016). There are several drivers of the increase in child marriage in areas with armed conflict.
One of those main causes has been found to be financial in nature. On one hand, young girls who are displaced to other countries lack access to education and are thus expected to have more difficulties in finding a job in the future. On the other hand, the impoverished families may believe that an early marriage would decrease the financial burden by eliminating the cost of raising the young girl (Arab & Sagbakken, 2019). In a UN Survey conducted, 28.4% of females in refugee camps believed that the marriage of underage girls could solve the family's financial problems compared to 18.3% of males in refugee camps (UN Women, 2013).
In an interview I have conducted with Ashraf [1], a Syrian refugee living in Lebanon whose daughter got married at the mere age of 11, he stated:
"It is really hard for us Syrians nowadays; we don't even know if we can afford to eat every day. The girl's expenses were getting a lot, don't misunderstand me, but she was requiring a lot of clothes and we couldn't afford to keep her in school anymore. I'm sorry to say this but marriage meant one less mouth to feed and so we were forced to marry her off. The girl was living in Syria with her uncle and with the economic crisis in Lebanon I was no longer able to send them money so we agreed that it's best to marry her".

– Ashraf
In Muslim marriages, it is customary to have a Mahr, which is similar to a dowry, that the husband gives his newlywed wife as a sign of respect. Child marriage thereby becomes a source of income for many families. When asked what her Mahr was and whether she or the family got the gift, Ashraf responded:
"We received 1500$ for the marriage. And I was forced to give her uncle the Mahr since he had been taking care of her – so she couldn't get to keep the Mahr".

– Ashraf
Another cause for the increase in child marriages during conflict is the lack of security and thus the perceived need for physical protection. During the war, there is an increase in harassment and sexual violence in conflicted areas and in refugee camps. Many families, especially in patriarchal societies, believe that marriage provides young girls with a husband who will protect them in the absence of a male figure or better than the present male figures (Bartels, et al., 2017), (Arab & Sagbakken, 2019). The UN, in the same survey, stated that as many as 28.7% of Syrian and 22.2% of Syrian males believed that marriage provides necessary protection to young girls (UN Women, 2013).
In the interview with Ashraf he elaborated on the reasons he was forced to marry his daughter to a man:
"When my daughter was going on the streets, she was attracting the looks of many men. Her uncle can't fight with every man who harasses her – and I couldn't go to Syria to protect her – so the best solution was for her to be married".

– Ashraf
An additional cause for child marriage among Syrian refugees in Lebanon are norms, religious practices, and societal expectations. Many families claim to be unsupportive of child marriage, but were forced by societal trends. Marriage is believed by many in the region to preserve the "honor" of the girl. In the UN survey, as many as 33.4% of males and 44.2% of females believed that marriage under 18 is part of their traditions and customs.
The legal framework of child marriage in Lebanon – what needs to be done?
In the absence of a unified civil code on personal status in Lebanon, marriage is currently governed by 15 separate personal religious-based status laws. Each religious sect enacts a minimum age of marriage according to its religious laws, which in some will fall to nine years old. Minors are thus subject to the domination of religious sects that control all decisions determining their personal and legal status. (Office of the United Nations High Commissioner for Human Rights, 2018)
A draft law was introduced in Lebanon in 2014 aiming to regulate early marriages in Lebanon, but failed to reach its way as it did not include a comprehensive ban on early marriages. Instead, it required the consent of a juvenile judge and not only the guardian, before the marriage is conducted. The project was confronted with a strong opposition campaign as it was considered lined legislation allowing underage marriages (Office of the United Nations High Commissioner for Human Rights, 2018).
In 2017, the "Lebanese Democratic Women's Gathering RDFL" submitted to the Chamber of Deputies a second draft law, which set the minimum age for marriage at 18 years on all Lebanese territory without exception, with increased penalties for offenders. For many advocates, it is considered the best legal provision to protect minors. (Humans Rights Watch, 2017)
However, according to a Lebanese lawyer, Ms. Sandy Haddad, whom I interviewed for this article, the 2017 draft legislation was rejected by the main religious authorities in Lebanon refusing any law determining the age of marriage thus interfering in the personal status laws, which they consider solely reserved to the religious authorities. Since these religious authorities have a strong political impact in Lebanon, the 2017 draft law ended in the drawers of the "Management and Justice Committee" pending discussion and approval for transmittal to the General Assembly (Haddad, 2021).
To end child marriage, a strong legal framework is needed. The legal age of marriage needs to be raised to 18 without exception. Meanwhile, existing laws against child marriage also need to be enforced and offer those girls at risk, the possibility to seek protection by authorities and courts (UNFPA, 2020).
However, as child marriage is deeply enrooted in some cultures and norms, legislation alone is not enough. Civil society and governments must cooperate to foster children's access to high-quality education (including sexuality education), health services, and justice. Girls who are able to stay in school become empowered through information, skills and a support network, and are more likely to avoid child marriage (UNFPA, 2020).
When I asked Ashraf what would have stopped him from marrying his daughter he replied:
"Neither I nor my child wanted her to be married. Our financial situation must be better, we shouldn't be forced to make such a choice in our day and age. The world should take better care of us and our children. Also there must be NGOs who raise awareness on the issue and show us how this practice is harmful because that isn't how we were raised".

– Ashraf
Humanium has always advocated for a world where children's rights are respected and protected, and where no child should ever suffer the effects of child marriage. Discover how to stand up for children's rights, join our community, interact with our work, and spread the word through our website, Facebook page or newsletter!
Written by Ali Karaki
Bibliography:
American University of Beirut; UNFPA; SAWA for Development and Aid. (2016). The Prevalence of Early Marriage and its Key Determinants Among Syrian Refugee Girls/Women. UNFPA, 8.
Arab, R. E., & Sagbakken, M. (2019). Child marriage of female Syrian refugees in Jordan and Lebanon: a literature review. Global Health Action.
Bartels, S. A., Michael, S., Roupetz, S., Garbern, S., Kilzar, L., Bergquist, H., . . . Bunting, A. (2017). Making sense of child, early and forced marriage among Syrian refugee girls: a mixed methods study in Lebanon. BMJ Global Health.
ECHO. (2021, July 29). Lebanon. Retrieved September 13, 2021, from Factsheet.
Efevbera, Y., & Bhabha, J. (2020). Defining and deconstructing girl child marriage and applications to global public health. BMC Public Health.
Haddad, S. (2021, September 13). Lawyer. (A. Karaki, Interviewer).
Humans Rights Watch. (2017, April 12). Lebanon: Pass Bill to End Child Marriage. Retrieved from Human Rights Watch.
(2017). LEBANON Country Brief: UNICEF Regional Study on Child Marriage In the Middle East and North Africa. UNICEF.
Monla-Hassan, J., & Yacoubian, M. (2020, August 12). COVID Will Lead to More Child Marriage—What Can Be Done? Retrieved from the United States Institute of Peace.
Office of the United Nations High Commissioner for Human Rights. (2018). Report on child marriage, early marriage and forced marriage in Lebanon. Office of the United Nations High Commissioner for Human Rights.
The Worldbank. (2021, April 21). The Worldbank in Lebanon. Retrieved on September 11, 2021, from The World Bank.
UN Women. (2013). Gender-based Violence and Child Protection among Syrian refugees in Jordan, with a focus on Early Marriage. Amman: UN Women.
UNFPA. (2020, January 31). Child marriage. Retrieved on September 13, 2021, from the United Nations Population Fund.
UNHCR. (2021, February 21). Syria. Retrieved on September 12, 2021, from The United Nations High Commissioner for Refugees.
UNHCR. (2021). Syria Emergency. Retrieved from The United Nations High Commissioner for Refugees.
Unicef. (2021). Child Marriage. Unicef.
Wodon, Q., Male, C., Nayihouba, A., Onagoruwa, A., Savadogo, A., Yedan, A., . . . Petroni, S. (2017). Economic Impacts of Child Marriage: Global Synthesis Report. The World Bank.
Women's Refugee Commission. (2016). A Girl No More: The Changing Norms of Child Marriage in Conflict. Women's Refugee Commission.
---
[1] The name has been changed to protect privacy.