Children of Dominica
Realizing Children's Rights in Dominica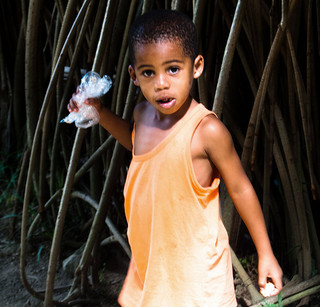 The Commonwealth of Dominica, commonly known as Dominica, is an island nation in the Caribbean Sea, situated north of Barbados and south of Antigua. It is not to be confused with the Dominican Republic. While Dominica has taken several steps forward regarding the protection of children's rights, the situation remains very concerning. Life imprisonment and detention in adult prisons are just some of the violations of children's rights in Dominica. In order to fulfil its obligations under the UN Convention on the Rights of the Child, Dominica must continue with and step up its efforts to protect children's rights.
Main problems faced by children in Dominica:
Dominica has a major problem with discrimination, most notably toward disabled children and gay people.
Discrimination toward children with disabilities
While there are two schools which disabled children may attend in the capital city Roseau, disabled children living in rural areas have very limited access to education.
Discrimination toward gay people
Consensual homosexual sex is a crime in Dominica, punishable by up to 25 years' imprisonment or involuntary commitment to a psychiatric institution.
The death penalty
While the death penalty has not been applied in Dominica since 1986, the death penalty still exists under Dominican law.
Some of most concerning of the violations of children's rights in Dominica relate to juvenile justice. There are no special courts for minors in Dominica and children are not separated from adults in the country's penal institutions.
Although children cannot receive the death penalty, they can be sentenced to life imprisonment. Boys may also receive the sentence of whipping.
The rate of teen pregnancy in Dominica is particularly high, as is the prevalence of alcohol abuse among young people. The lack of psychological support services for young people, particularly rural and Carib Indian children, is also very concerning.
Corporal punishment, legalised in 1997, is widespread throughout the country.
According to a study undertaken by the United Nations in 2009, more than 90% of Dominican children report that they have been victims of physical abuse at home or at school. Women are also often victims of domestic abuse in Dominica.
Dominican law prohibits the trafficking of girls under the age of 18 for sexual purposes, but remains silent in relation to boys. Dominican law is also silent on the trafficking of children for the purposes of labour exploitation.