Children of Brazil
Realizing Children's Rights in Brazil
Brazil's track record in human rights has largely improved in a number of areas since the end of military rule. Despite this progress, the situation of children is far from ideal as they continue to frequently face hardships preventing them from growing up in a stable and peaceful environment.

Main problems faced by children in Brazil:
In Brazil, around a quarter of the population lives below the poverty line. In this country, 80% of the population lives in urban areas, and it is in these cities that great injustices appear between the "rich" living in affluent neighborhoods, and the "poor" living in the favelas.
These two "categories" of population live in close proximity to one another, and yet if their comfort and quality of life were measured, they would find themselves at opposite ends of the social spectrum. Children living in the favelas are confronted on a daily basis with problems relating to health, food, access to water, education, and violence.
Right to health
Health in Brazil is influenced considerably by the lack of housing for people with poor income. These families are forced to live in shanty towns where filth and sanitation problems, as well as a lack of hygiene, are the source of a number of diseases and infections. Additionally, medical personnel are sometimes hesitant to enter these high risk neighborhoods, to the detriment sick children and pregnant women.
Setting an example to its neighbors, in recent years, Brazil has made a number of efforts to combat the HIV/AIDS crisis. However, the fight is not yet over, and medications and treatments of HIV/AIDS continue to be in short supply in this country.
In addition, the infant mortality rate, even though not one of the highest in the world, still remains a concern.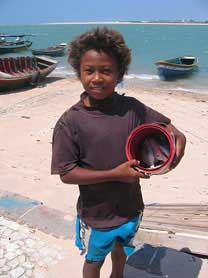 Child labour has still not completely eradicated in Brazil. Children continue to be employed in agricultural areas, particularly on sugarcane plantations, and in coal mines. Children of 15 years of age represent 25 to 30% of the work force in Brazilian fields.
On the coast, numerous children are also employed as fishermen.
Young girls are often employed as domestic workers. It is estimated that there are more than 400,000 children employed as domestic workers in Brazil.
A study revealed that 36% of young Brazilian woman are married before the age of 18.
These marriages have profound effects on the health of young girls who are not psychologically prepared and do not yet understand all the obligations and consequences involved in marriage. Also, they are often raped on their wedding night and are then frequent victims of sexual violence.
North Brazil is known for its poverty. In these regions, children often live in the street and, as a result, are confronted with violence on a daily basis. Their environment is deplorable, with child trafficking, drugs, prostitution, hard labour, begging, and sexual exploitation representing daily challenges.
This serious lack of rights and child protection is also found throughout other areas of Brazil, especially with respect to the lives of orphans. It is estimated that there are 3.2 million orphans in this country. They are generally found in the street and must confront the violence and cruelty found there.
In the favelas, violence is a major problem. The population is under constant threat from drug dealers who rule the neighborhoods. Confrontations between gangs and police forces are frequent and are accompanied by shootings. The numerous incidences of shooting and the intensity of the violence exposes children to physical and mental risk and to extreme psychological trauma.
In Brazil, sexual exploitation is very real. Unfortunately, young Brazilians who are victims of sexual violence are not always heard and the perpetrators often remain unpunished.
Also, the sex trade has evolved in recent years, increasingly through the Internet. Furthermore, due to the Internet's virtual nature, it is difficult for the authorities to investigate and suppress.
In Brazil, rape, prostitution, and sexual exploitation of children are rampant – in particular sexual exploitation remains one of the major problems for the country.
In addition to the sex trade, the drug dealers who rule the favelas also use children for their illegal activities. Children sometimes as young as 5 years old play the role of messenger between dealers and are therefore familiar with gang life from a very young age.
A large part of Brazilian territory is covered by the Amazonian forest, a territory in which live people whose rights are frequently flouted and unrecognized. It represents an area where children are not protected and are constantly under threat.
For example, in the Laranjeira Ñanderu community, which has around 85 children, the inhabitants live in miserable shelters and deplorable conditions. They are constantly harassed and threatened by the authorities who try to hunt them.
Many of these people are violently evicted from their lands and are forced to leave their belongings, which are then burned. Children are not spared from the violence and find themselves with no shelter and no protection. As "landless children", they then become the prey of criminals and many among them are victims of sexual violence, discrimination and drug trafficking. Lost in an unfamiliar, unhealthy, and dubious environment, they must then work to survive and unfortunately, the areas of work available to them are very cruel: prostitution, drug dealing, and exploitation.
These people and their children find themselves deprived of fundamental rights such as security, health, food, education, or protection.
Police and legal protection of children
The Brazilian police are widely perceived as the greatest fear for street children; some even say that life in the streets is paradise compared to that of being a detainee. Police frequently resort to violence in the favelas. Several police and military operations carried out in the streets of poor neighborhoods against the gangs have resulted in numerous deaths, including those of children. During such operations, the authorities often ignore the welfare and security of the inhabitants and subject children to cruel violence.
Because of the climate of insecurity, people shut themselves in their homes. In such scenarios, children no longer go out, schools and daycare centers close, and numerous inhabitants lose electricity. As a consequence, the protection of children that is the responsibility of national security authorities is replaced with violence and danger, as well as a loss of respect for children's rights. Furthermore, a number of studies state that these "security" operations have no positive impact on the safety of these neighborhoods.
The studies have described incidences where the authorities decide to systematically empty these neighborhoods and risk provoking violent riots. Families evicted in this manner, in particular children, find themselves deprived of water, toilets, food, and electricity; children find themselves sent away from schools and access to healthcare is refused to them. For example, on August 24th 2009, around 500 families were evicted from their homes in the south of São Paulo and found themselves living under plastic tarpaulin facing their former home.
The perception of the Brazilian justice system is very negative: torture, extrajudicial executions and enforced disappearances are described as common. Not even minors have been spared from the deplorable conditions of detainment.