Children of Liberia
Realizing Children's Rights in Liberia
The children's rights situation in Liberia is particularly bad. Poverty, a lack of governmental intervention, and the inefficiency of the justice system harm children. These children lack access to healthcare and education. They are the victims of damaging traditional practices, abuse and trafficking. Consequently, many work or live in the streets.
Main problems faced by children in Liberia:
Weakened by a civil war from 1989 to 2003 and by the recent global economic crisis, Liberia at present is one of the poorest countries in the world. Eighty-four percent of the population lives below the international poverty line (1.25 U.S. dollars/day), notably in rural areas.
With 5.2 children per woman most Liberians do not posses the means to meet the needs of their numerous offspring. Many Liberian children don't have access to a sufficient and balanced diet. Only one in four has access to drinking water, 40% suffer from malnutrition and one in five is undernourished. These diet deficiencies cause shortages in vitamins and iron, and delays in growth (weight & height) sometimes leading to death in the most severe cases.
Poverty is also the main cause, or at least an exacerbating factor, in the majority of other child right's violations in Liberia.
Due to the lack of healthcare resources, many children and pregnant women don't have access to hospitals and even less to treatment and medical personnel, especially in the country. This explains the elevated mortality rates of infants and mothers—placing them among the highest in the world.
Because of the lack of information and means of protection (contraception, medicine to prevent disease transmission from mother to child…), close to 1% of the population is carrying the HIV/AIDS virus, of which 6,000 are children younger than four. The number of children affected by tuberculosis or malaria is equally disturbing and does not seem to be diminishing.
Neglected due to a lack of means, even today the Liberian educational system presents numerous insufficiencies despite efforts for improvement. And despite a literacy rate of about 75% for the 15-24 year-old age group, few children pursue studies after primary school. In rural communities, some never attend school at all.
The lack of facilities and supplies along with the cost of study causes this low rate of enrollment. If education is officially free and obligatory parents, in reality, will have to pay for many hidden costs: pencils; uniforms; books; desks; even teachers, who are generally underpaid and undereducated. Parents who don't have enough money can't send their children to school.
In many rural communities, children are sent to receive their education in a completely isolated "bush school" (prodo for boys, sande for girls) where they are educated in terms of traditions. Even as they contribute to the preservation of the cultural identity of the country, these uncontrolled educational centers are detrimental to the children's' education making them abandon their studies and encouraging the continued practice of certain harmful cultural practices (cf. see below).
According to the country's Constitution, nationality is only granted to people of Liberian or African descent. Numerous citizens find themselves in this situation, deprived of their political and social rights—one of which is land ownership. Some children born in Liberia don't meet these requirements and subsequently become stateless persons, even though their parents have lived in the country for many years. This is the case of children from large Lebanese communities or those from the Liberian-American community for example. Moreover, only 3% of births are recorded in rural zones and 5% in urban areas. Many children are therefore left without a recorded birth, depriving them of part of their rights.
Justice for minors
Juvenile justice
Liberia introduced directives for the creation of justice for minors in 2011. However, the implementation of laws and procedures relating to delinquents and to children needing protection is still very flawed.
The judiciary system is slow and inefficient due to lack of means and manpower. Police don't carry out investigations properly and often culprits remain unpunished. Child victims rarely receive reparations.
Despite some improvements since 2010, the police and the penal system are defined by abuse: arbitrary arrests, resorting to torture and other mistreatment, bribes, intimidation, assault….
Popular and traditional justice
Because of the inefficiency and generalized corruption, Liberians don't have confidence in their judiciary system and regularly settle their disputes themselves or appeal to private militias outside of the control of the authorities.
Similarly, the systems of traditional justice that endure in the countryside do not always cohere to legal procedure, and even less to the needs of children. Trial by ordeal, a practice in which the innocence or the guilt of an individual is decided in an arbitrary manner (including torture, sometimes causing death) is still in effect in certain areas of the country. In this way, minors without any means of defense are submitted to forms of arbitrary justice.
Detention conditions
The conditions of detentions in Liberia are extremely bad. Overpopulated penal establishments lack food, water, bathroom plumbing and medical services. Violence reigns and many prisoners get attacked. Such an environment has detrimental consequences to the physical and mental health of detained children. 90% of prisoners are awaiting trial, often held with condemned criminals. Certain children involved with the law remain incarcerated up until one year before being judged. Whether their detention is temporary or a result of sentencing, some minor delinquents remain incarcerated with adults. Neither homes nor juvenile detention centers exist for them. At their release, they aren't aided with their rehabilitation which incites social exclusion and second offenses.
Harmful cultural practices
Female genital mutilation (FGM)
Unfortunately, female genital mutilations are still commonplace in Liberia. The country's law does not formally prohibit them. Painful and dangerous to the health of young girls these barbaric acts are, above all, practiced in rural areas generally in the name of initiation rites. Sande's, secret "bush schools" for girls, are considered in particular as a rite of passage to adulthood and a guarantee against infidelity.
Child marriages and premature pregnancies are widespread phenomenon in the country. 19% of girls are married at the age of 15 and 40% of them before 18 years old. The birth rate in Liberian adolescents is the second highest in the world (117/1000) and in certain cases, young mothers represent up to 68% of 15-19 year olds. Encouraged by tradition, these practices are all the more harmful to the development of the children that they give birth to—most often without their consent.
Ritual assassinations
Firmly shunned by the government and general populace, cases of ritual assassinations including those against minors have been reported. These murders are committed in order to harvest organs used in indigenous rituals in which prominent members of society participate.
The frequency of negligent and violent acts, including sexual abuse, against children is very troubling. Rarely punished, harsh treatment is largely widespread especially within the family. Banned in prisons, bodily harm towards children is not formally forbidden at school or home.
Rape victims are mostly girls from 10 years of age to 16 (70% of cases). Many of them do not dare testify from fear of being rejected by their family and community. Sexual harassment isn't even punishable by law. So, young boys and girls find themselves in stressful and potentially dangerous situations without any means of defense.
Primarily because of poverty, the impossibility of pursuing education, and certain cultural practices, child labour is prominent in every activity sector including in its most dangerous forms. Children are used as prostitutes, servants, pan handlers, street vendors, and as workers on rubber tree plantations, in stone quarries and on diamond excavation sites.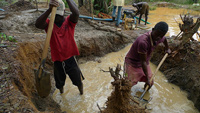 The employment and training of children less than 16 years old during school hours is officially prohibited. It is equally forbidden to expose them to dangerous work. But too often the law is not respected. 21% of Liberian children are still exposed to dangerous working conditions.
Sexual abuse, violence, heavy load transport, work in confined spaces or even the handling of dangerous tools all have harmful consequences on the physical and moral development of children that are exposed to these conditions. The alienation of school equally prevents them from becoming educated and having the power later in life to avoid harsh work.
In addition, due to the civil war in the neighboring Ivory Coast and the massive influx of refugees in poor villages close to the borders, many children are forced to work just to survive. They willingly offer sexual relations or undertake domestic duties to earn food or shelter for the night.
Many children are victims of trafficking in Liberia. Most of the time, they are relocated and exploited in their own country and often by members of their own family. Others come from neighboring countries.
Orphanages headed by unscrupulous individuals also participate in child trafficking. Growing richer thanks to donations, government aid, and gullible parents who entrust them with their kids believing it is an opportunity for a better life, these institutions in reality offer harmful health and moral environments for children while profiting from their vulnerability.
The human trafficking problem in Liberia is amplified by the lack of legitimate legislation.
Liberia has many children living in the streets especially the capital, Monrovia. Many of them come from very poor rural areas, forced to work in the city by impoverished parents who send them away before they are of legal age. Others have been relocated or enlisted during the recent civil war and have lost their family. The shortage of orphanages and the terrible quality of life in those that do exist limits the amount of children able to be enrolled. For the most part the children are forced to work, eat and sleep in the streets without meeting their basic needs and by consequence are particularly susceptible to violence, trafficking, and sexual exploitation.
Consequences of war
The consequences of the civil war that ravaged Liberia from 1989 to 2003 can still be felt today. Almost all children older than 10 witnessed or endured atrocities. Some, drafted as child soldiers, committed them. Many suffered serious psychological trauma without receiving the necessary medical attention needed to heal and mature healthily.
The reintegration of child soldiers seems to be on the right track, even if efforts remain to be seen. 70% of children go to school and 95% no longer have contact with their superiors. However, government efforts often forget to take into account the special needs of girls who were enrolled in the armed forces or victims of war. Many have been raped or forced to marry and are rejected by their home communities today.
The government no longer puts forth enough effort to reunite children displaced during the war with their families, which condemns them to a life in the streets where they are exposed to the network of child trafficking.
Because of the war, disabled children are particularly numerous. 16% of the Liberian population is handicapped. Handicapped people are subject to discrimination, especially in rural zones, in accessing healthcare, school or work. Certain beliefs engraved in society and linked to witchcraft distort the causes of handicaps and push families and the general populace to reject these people.
Girls equally suffer from discrimination primarily from: the lack of governmental action to change beliefs; because the most important role is traditionally given to the boy; and the incapability of the justice system to punish those who violate their rights. Girls are less likely to go to school (only 14% go to high school). They run a higher risk of being raped or married young. They are also most often the victims of physical or sexual abuse.