Children of Peru
Realizing Children's Rights in Peru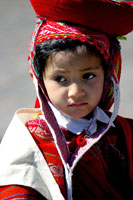 The rights of the child in Peru are fulfilled to a varying degree. On one hand, the country has made real material progress in improving the lives of young Peruvians. On the other hand, only some children can take advantage of these advances, and many others are left behind, with no guarantee that their rights will be respected.
Main problems faced by children in Peru:
35% of the population in Peru live below the poverty line. So, in spite of a recent economic boom throughout the country, some Peruvians still have not escaped their precarious situations.
Many families are affected by unemployment, and as such, find themselves without resources. They cannot fulfill their own basic needs, let alone those of their children. These children's rights and freedoms are badly limited.
Despite numerous strides forward in policy, health services are still not efficient or accessible enough to provide adequate care to all Peruvian children.
Peru also finds it difficult to provide health care to children, especially indigenous, who live in the furthest rural regions. The required services and personnel are not provided in much of the country, so many children cannot access them.
This problem is even more serious because it is these far-flung children who are more susceptible to illness, infection, and nutritional problems. For example, in the beginning of 2011 alone, seven indigenous children died of rabies. However, a simple vaccination would have immunized those children sufficiently against the disease. Unfortunately, vaccinations are restricted by the lack of access to health care or to any simple prevention measure in such regions.
In addition, some ethnicities are morally opposed to some types of care and treatments. If awareness was raised about the causes and consequences of certain health issues, it could help these beliefs evolve and could fix the problem.
About 34% of children in Peru must work in order to help their families.
Most children have difficult, exhausting, and sometimes extremely dangerous work.  They work in jobs at such diverse places as plantations, waste disposal centers, traveling markets or mines. Some risk their lives daily in terrible conditions and earn mere pennies, far from adequate compensation for the precariousness of their positions.
Other children are forced into prostitution or drug dealing, which is just as dangerous.
Violence in Peru is only increasing. No one dares oppose the gangs, which terrorize the streets and lay down the law. They intimidate other inhabitants, who remain submissive and silent in the face of the violence.
Gang leaders often turn to children: some are raised by the gang, some become victims of the gangs. They practice the worst forms of sex and drug commerce as traffickers. If the children are able to escape the gangs, they are usually still traumatized by their experiences and must undergo a long and difficult reinsertion into normal society.
Almost one in five young girls in Peru is married before the age of 18. In addition, they are prepared for their future married life from a very early age. These marriages often have serious consequences on the health of young women, as they do not always understand the consequences of married life.
Much of the land in Peru is covered by the Amazon rainforest, where the people's rights are unrecognized and overridden, and where children are harassed and unprotected.
These children confront many obstacles to such fundamental rights as education, health care, and an identity. For example, a large number of indigenous children under 5 years old suffer from chronic malnutrition, which has very serious consequences for their health.
They are also frequently victims of discriminatory acts from the rest of society. But this population also predicts the intolerance and racist views of others, and can retaliate against such acts, sometimes violently.  Some indigenous children are traumatized, both physically and mentally, because of their ethnic origins.