Children of Colombia
Realizing Children's Rights in Colombia
According to UNICEF, "The violence that was caused in Colombia by illegal armed groups gave rise to a serious humanitarian crisis which has affected children and youth who are in turn having trouble in building a stable future." It's abundantly evident that a resolution of the pressing situation regarding children's rights in this country is far from being reached.
Main problems faced by children in Colombia:
45% of the population of Colombia lives below the poverty line. Although the country possesses much wealth, it is shared very unequally, and conditions are aggravated by the regular armed conflicts and frequent natural disasters it faces.
The most vulnerable victims of this oppressive poverty – the multitudes of homeless children abandoned to sleep on the streets of big cities, without shelter or aid – represent an unacceptable situation.
In Colombia, approximately one in ten children receive no schooling. Many schools are forced to close for extended periods on a regular basis, as it takes months to reconstruct them following each disruption: periods often prolonged by failure to achieve peace.
Furthermore, poverty forces many children to work in order to help in providing for the daily needs of their families: making education a distant secondary priority.
This problem is very prevalent in Colombia. In fact, in order to survive, even children as young as ten years are compelled to engage in prostitution for a few measly pesos. Unscrupulous foreign tourists are often among those who commit the dreadful acts associated with sexual exploitation of children, taking advantage of the despair of families living in abject poverty.
Colombian children who are victims of the sex trade are subjected to all its degrading perversions, including child pornography, sexual abuse, sadistic violence, etc. The country's legal system is weak in this regard and lacks credibility in both prevention and prosecution. However, recent trials and other measures give hope that sterner and more strenuous action will be taken in enforcing the law and punishing offenders in future.
A survey revealed that 23% of young Colombian women – primarily those in rural areas – are married before the age of 18.
This practice usually has serious repercussions on the health of young girls who do not understand the consequences of marriage and are unprepared for its hardships, which include premature pregnancy and high rates of maternal and infant mortality. The offspring of these marriages generally begin life at an even more depressed state of existence.
More than 10,000 child soldiers participate in Columbia's armed conflicts. They are used directly in the armed forces and combat, or indirectly to collect information: in complete contravention of the principles of the International Convention of the Rights of the Child, which was ratified by Colombia.
Countless children grow up in this milieu, surrounded by violence, trapped between the barbarities of contending armed groups, living with the constant possibility of an untimely death. Many such children captured by the Colombian army are persuaded to play the dangerous role of "informer" before regaining their freedom. It is imperative that these widespread violations of accepted international law be stopped forthwith.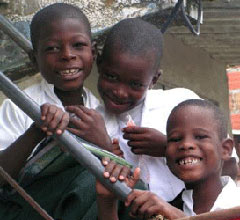 Colombian children are daily exposed to the dangers of landmines. Many of them die, while many more are severely disabled through the loss of a foot or leg. Approximately 15,000 people are killed or injured annually by land mines and explosives, a large percentage of them being children. Children thus handicapped have their futures shattered, with few support systems in place: condemned to suffer both physically and psychologically.
"The biggest challenge that Colombia faces is that of violence", according to Paul Martin, the UNICEF representative in Colombia. "Domestic violence, violence at school, street violence. It is a country completely traumatised by violence."
With the increase in drug trafficking, violence has become even more widespread and problematic. Colombia is the world's largest producer of cocaine and a centre of the worldwide drug trade. Minors are affected considerably by this trafficking, in numerous ways. They are frequently exploited to further trafficking operations, and often fall victim to the brutal violence that marks this trade.
Widespread substance abuse and drug addiction, especially among street children, are a corollary of this rampant state of affairs.
Protection of indigenous children's rights is practically non-existent in Colombia. A United Nations Special Rapporteur described the human rights situation of these people as "serious, critical and deeply worrying." Members of armed groups murder dozens of indigenous children and pregnant women (especially those from the Awas tribe) each year.
Approximately 10% of births in Colombia are not registered. Non-registration of births is particularly prevalent in rural areas, with more than 20% of rural children failing to appear on administrative records. This inexorably leads to crippling social, economic and political disadvantages, since such children are considered as invisible and cannot aspire to even the most basic human rights.