Children of Haiti
Realizing Children's Rights in Haiti
On January 12, 2010 Haiti – the poorest country in the Western Hemisphere – experienced an exceptionally powerful earthquake. Its capital, Port-au-Prince and other areas of the country were totally devastated. This natural disaster has had an overwhelming impact on the Haitian population, especially children. Their situation remains critical to date, and increasingly worrisome.
Main problems faced by children in Haiti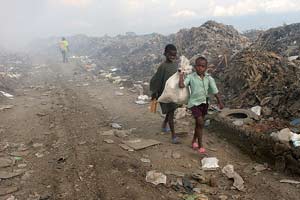 Haiti is one of the least developed and poorest countries in the world; 65% of the Haitian population lives below the poverty line.
Economic hardship, coupled with political instability, has compounded the impact of natural disasters on the condition of Haitian children, particularly in terms of health, education, welfare, etc.
Despite the development and improvement of health services, Haiti still faces significant challenges.
Indeed, only 40% of children have access to health services. In most cases, the population does not have proper care: health centers can sometimes be located scores of miles from homes. Additionally, care is not always free, so Haitians are often reluctant to consult. Further, the country suffers a dearth of pediatricians, many trained professionals having fled its political instability and lack of security.
Infant mortality is extremely high in Haiti, mainly due to diseases such as diarrhea, respiratory infections, malaria, tuberculosis and HIV (at least 19,000 Haitian children are infected with the AIDS virus).
Malnutrition affects the vast majority of Haitian children, exerting a markedly deleterious effect on their health and frequently causing significant problems in their physical and mental development.
Currently, the lack of zinc, iodine and vitamin A in children's diets is causing severe problems for growth. In the long term, malnutrition has a negative impact on overall social development and economic growth.
Today, Haiti – in collaboration with local NGOs and international imperatives to progress health – is attempting to respect and implement Article 24 of the Convention on the Rights of the Child.
Although education is "free" in Haiti, only half of all children are enrolled in primary school. This is because 92% of schools are private, leaving most families unable to pay school fees. In addition, the prohibitive cost of uniforms, books and other school materials make them unaffordable to many.
The quality of teaching in Haiti is also acutely poor, since 80% of teachers do not have a teaching degree. Much progress remains to be made to ensure Haitian children the right to a good education.
The number of Haitian children employed as domestic workers is extremely high: with 80% of them being girls.
It is common practice for disadvantaged parents, particularly in rural areas, to send their children to urban areas in order to serve more affluent families. They are often deceived into thinking that their children will be supported in recompense for performing menial household chores. Such children are, however, frequently not paid, kept out of school and regularly abused (physically and/or sexually).
Child slavery is almost endemic in Haiti. The networks trafficking children have penetrated deep into its social fabric, and the 2010 earthquake has led to an acceleration of their activities.
In most cases, traffickers kidnap and/or procure children to be smuggled to the Dominican Republic. Often, parents have the false impression that migration will be beneficial to their children, imagining that the Dominican Republic can offer them better work opportunities and living conditions. But the reality is entirely different: Haitian children are exploited unmercifully, particularly girls – who are engaged primarily in domestic service and child prostitution.
Several routes used for child trafficking, including that of Ouanaminthe, are known to the authorities. However, although the government and interested organizations actively engage in combating child trafficking, it has proved difficult to control all traffic points thus far.
Sexual violence is a serious problem in Haiti. In fact, statistics show that 50% of its girls are raped, with over a third being sexually abused before the age of 15.
The uncertainty facing the country and its citizens, especially young women, is largely due to a lack of police personnel, training and equipment.
Haiti's widespread lack of access to safe drinking water and poor sanitation cause deep concern.
Many children, especially those living in rural areas, do not in fact have any drinking water. Often, they spend long periods obtaining and carrying water: to the detriment of their education. Frequently, the water found is not drinkable; to be safe, it must be boiled using firewood or coal – scarce resources which are difficult to procure. Thus, due to consumption of non-potable water, young Haitians put their health at risk for diseases such as diarrhea; and such consumption is a major cause of death among children under 5 years.