Children of South Sudan
Realizing Children's Rights in South Sudan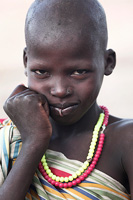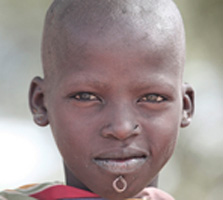 South Sudan formally declared its independence on Saturday 9th July 2011 at Juba, its capital, presenting an opportunity to remedy the desperate situation in which children find themselves, affected by years of civil war.

Realization of Children's Rights Index :
4,86 / 10
Black level : Very serious situation
Population: 11,1 millions
Pop. ages 0-14: 46,2 %
Life expectancy: 55,3 years
Under-5 mortality rate: 60 ‰
Main problems faced by children in South Sudan:
In South Sudan, poverty is deeply rooted in society with more than 90% of the population living on less than $1 per day. Those most deeply affected are living off subsistence farming in the regions which have been or which continue to be affected by drought and war.
The inability to adapt to climatic variations, as well as the demands placed on natural resources, are the fundamental causes of poverty, which have fuelled the conflict from the beginning and have since intensified. Children directly suffer the consequences linked to poverty, which deprives them from a school education, access to healthcare, etc.
Victims of attacks carried out against schools, of forced recruitment campaigns carried out by armed militias, pupils are on the front line of armed conflicts across the world. The availability of education during the civil war in South Sudan has proved to be nearly non-existent.
The figures speak for themselves: in South Sudan: 1 in 5 children attend school and only 1% of these children finish primary school. The country registers the lowest rate in the world of secondary school attendance. For girls, the situation is even more critical as 91% of them are illiterate.
This deplorable situation is clearly the result of the civil war, which has raged for years in South Sudan, thus depriving 3 whole generations of children a chance to go to school. Reception centres do not exist and classes often take place in the open. Moreover, there is a shortage of qualified teachers, the majority of which do not possess training or formal qualifications.
With one of the highest infant mortality rates in the world, a chronically malnourished population and recurring epidemics, South Sudan faces a considerable challenge when regarding access to healthcare. In effect, according to Doctors Without Borders (MSF), 75% of the population does not have access to basic healthcare and 80% of healthcare services are provided by international NGOs. There are only 120 doctors and a hundred or so nurses to cater 8 million South Sudanese citizens.
The healthcare situation is critical, particularly for children. A girl of 15 years is more likely to die during childbirth than go to school. In addition, more than 80% of South Sudanese have no access to toilets.
The government faces an immense task in dealing with the lack of qualified staff and healthcare facilities in order to meet the needs of its people. Added to which is an additional pressure on the healthcare system due to the return since independence of 300,000 South Sudanese from the North and the continued instability of the country.
With 550,000 HIV positive persons in South Sudan, children find themselves powerless against the spread of the virus. A population particularly affected by this epidemic is the street children. In effect, they receive almost no family support, no education and still much less protection, finding themselves more and more often confronted with grave dangers such as sexual abuse and HIV to which they are particularly vulnerable since they are unaware of its mode of transmission.
Furthermore, the increased interactions with neighbouring Uganda and Kenya, which are largely affected by the HIV epidemic increase the risk of contamination of South Sudanese children. The government still has much more to do in the fight against AIDS.
No one knows the exact number of street children that South Sudan, and its capital Juba in particular, harbours. These children, who sleep on the streets, are one of the consequences of the 21 years of civil war that has ravaged the region. The majority of them do not even remember their families from whom they were torn when they had to flee their villages in the grip of violence.
The very widespread practice in North Sudan of female genital mutilations (FGM) has spread equally to South Sudan. Practiced less frequently in the Christian communities of the South than in the Islamic communities of the North, associations and humanitarian NGOs have still discovered instances of such mutilations of South Sudanese girls.
Several factors explain this phenomenon. Firstly, South Sudanese migrants and nomads have slowly adopted cultural traits from the North including the practice of FGM. However, marriage between men from the North and South Sudanese has had a minor impact. In effect, such marriages remain infrequent due to the ethnic discriminations which can exist between the two populations.
Even if FGM represents a danger to South Sudanese girls and to respect of their rights, it is still difficult to fully grasp the scale of the problem in the country due to lack of data and statistics.
Early marriage exists throughout the country but poverty and civil war have aggravated the problem. In effect, with the dowry being generally due to the parents of the bride on the wedding day, young South Sudanese girls have become one of the few possible sources of revenue in a region where the average income is about 25 cents per day.
To marry very young, sometimes as young as 12 years old, may constitute an obstacle to education and can lead to health complications for girls if they become pregnant before their bodies are sufficiently developed. In South Sudan, a teenage girl is far more likely to be married than go to school. The figures are alarming. Only around 500 girls complete primary school annually. Yet, one teenage girl in five is already a mother.
The government is trying to address this serious issue. It has effectively introduced legislation stipulating that children have the right to be protected against forced marriage.
During the conflict, guerrilla movements recruited tens of thousands of child soldiers from South Sudan. These child soldiers have been used on the front line and as spies, messengers, sentries, porters, domestics and even as sex slaves.
Since February 2001, the first phase of the disarmament process, demobilisation and of reintegration has been underway with the setting up of local centres which provide reintegration support to these children.
Displaced and Refugee Children
With a cost of over two million lives, displacing and making refugees of more than four and a half million people, the armed conflict in Sudan features amongst the most bloody and longest in the history of the world.
The situation of refugee and displaced children in the Sudanese territory is worrying. In effect, these children find themselves particularly vulnerable to forced recruitment into various armed forces whilst their basic needs, such as food and educations, are neglected.
The South Sudanese government has set about improving access to basic services for children declaring legislation in 2008 which provides for the universal registration of births. This is a big step for the South Sudanese people since prior to that only 1/3 of births were registered.
The government, wishing to deal with the problems of forced marriage, child soldiers, etc, needs to understand clearly and officially the civil situation of children. This registration of births will also assist the authorities to plan infrastructure and services that the country desperately needs. Effective computerised registration methods and the training of civil servants will become implemented, as will vast awareness campaigns are to be launched to encourage the registration of births.